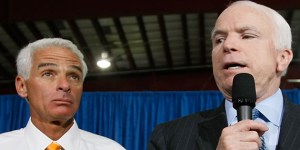 Suddenly, after running well ahead of him for months, John McCain has fallen four points behind Barack Obama in Florida, at least according to a Quinnipiac University poll released on Wednesday. This should be cause for alarm among Republicans, even if it is sharply at odds with other recent surveys in the state that have given McCain double-digit leads over Obama.
But one big-name McCain supporter was probably (secretly) thrilled with the poll, because as far as Charlie Crist's vice presidential prospects are concerned, bad news for McCain in Florida only makes the state's popular Republican governor more attractive as a potential ticket-mate.
Crist, who was elected in 2006 and who now sports a 61 percent approval rating, has long been considered a top-tier VP prospect, based largely on the importance of his state's 27 electoral votes to the G.O.P.'s fall game plan. He demonstrated his pull among the electorate back in January, when he delivered a late endorsement to McCain just days before Florida's primary. When McCain went on to post a narrow – and, as it turned out, decisive – victory over Mitt Romney, much of the credit went to Crist.
The problem, at least from the standpoint of Crist, has been that McCain didn't seem to need him quite as desperately as he looked ahead to the fall. All winter and spring, polls showed McCain running comfortably ahead of Obama in the state, but tied with (or even behind) Hillary Clinton. When Obama secured the Democratic nomination, McCain's Florida prospects brightened dramatically. Plus, the state tends to favor – however slightly – Republicans in presidential politics.
In the past few weeks, Democrats seemed to be writing off Florida for the fall and began pointing out all of the various electoral college combinations that would produce an Obama win without Florida. Under these circumstances – and with a poll late last month giving McCain a 10-point edge over Obama in the state – the case for Crist as a McCain running mate weakened. If McCain is likely to carry the state no matter what, wouldn't it make more sense to pick a VP who might help in a more marginal state – say, Ohio or Michigan? But if Florida is in danger for McCain, then Crist is in business.
Crist plainly covets the No. 2 spot on McCain's ticket. He was one of three prospective running mates – Romney and Bobby Jindal were the others – to pay a high-profile call on the presumptive G.O.P. nominee in Arizona last month. And this week, he adjusted his own position on offshore drilling – a very sensitive issue in Florida – in order to harmonize with McCain, who had just changed his own position.
Crist would deny this until he's blue in the face, of course, but for the next two months, his standing as a prospective running mate is directly related to Obama's standing in Florida: The better Obama looks in the polls, the better Crist looks to McCain. He can't get enough polls like the one Quinnipiac released today.
There are a few other would-be VP's in the same situation. The worse McCain's position seems in Ohio, for instance, the better Rob Portman might look. (Although Portman, a onetime congressman from the Cincinnati suburbs, lacks the statewide pull of Crist in Florida.) Ditto for Tim Pawlenty in Michigan Minnesota, and maybe even Mitt Romney in Michigan, a state where his family name is still well-regarded and where he posted his most significant primary season victory.
But Crist is by far the most dramatic example of this phenomenon. Florida has the largest electoral cache of any swing state, and the variance in polling is more pronounced there than elsewhere. It's generally assumed that Ohio and Michigan will be close no matter what, and that McCain will be running behind in Minnesota. But Florida, at least for now, could be a nail-biter just as easily as it could be a solid McCain win. How the state is looking come August could go a long way toward determining the fate of Crist's VP dreams.