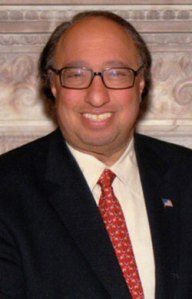 The grocery king who wants to be New York City's next billionaire mayor has a rather poor attendance record when it comes to a state board that oversees the Javits Center renovation and expansion.
Gristedes supermarket chain owner John Catsimatidis was put on the Convention Center Development Corporation board in March, but has not attended any of the four meetings since.
Mr. Catsimatidis, who is vying for the Republican nomination for mayor in 2009, was appointed by the State Senate's majority leader, Joseph Bruno, to fill one of his two slots on the board. Other members of the committee, who include members of the Bloomberg administration and appointees of Governor Paterson and Assembly Speaker Sheldon Silver, generally show up frequently to the board meetings, which provide oversight on the more than $1 billion project.
The reason for his absences, according to Mr. Catsimatidis' spokesman Rob Ryan, stems from the substantial amount of paperwork required to be completed by Mr. Catsimatidis in order for him to sit on the board.
"State appointments require a detailed ethics filing," Mr. Ryan said. "Understandably, when someone is on the Forbes 400 list, this can become very complicated."
ebrown@observer.com