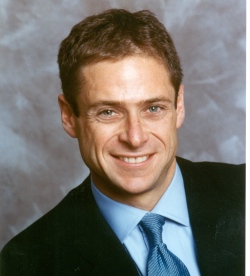 In the wake of his father Harry's near disastrous over-leveraging of the family business, Billy Macklowe has officially been named Macklowe Properties' new chairman and CEO. He has been working with his father since 1992, after a stint as a real estate finance analyst for Manufactures Hanover.
His father Harry has been named Chairman Emeritus of the firm.
The father and son were said to have a fractious relationship, which, according to a recent Wall Street Journal article, was made worse by Macklowe Properties' credit crisis woes. The tension between the two is said to have helped precipitate this change in the ranks.
The 40-year-old NYU graduate and former president of the family real estate empire succeeds his father, who brought that empire to the brink of oblivion by leveraging the GM Building and his personal holdings in last year's $7 billion acquisition of Sam Zell's Equity Office portfolio (via Blackstone).
This year, amid the heightened anxiety of the credit crisis, Harry Macklowe's lenders came clamoring, and Mr. Macklowe was forced to turn over the seven-tower Equity Office portfolio to Deutsche Bank, and to put the GM Building — New York's trophy of trophy properties — on the block.
This week, Mort Zuckerman's Boston Properties successfully closed on the GM Building for a record-breaking $2.8 billion, and the California-based Shorenstein Properties agreed to buy two of the Equity properties — 850 Third Avenue and Park Avenue Tower — for a total of $930 million. Meanwhile, Paramount Group is closing in on a $1.45 billion purchase of a third Equity tower, 1301 Avenue of the Americas.
In a statement, the younger Macklowe said, "I look forward to continuing the successful business my father and I have created, building upon it and branching out — undertaking new projects that will further the contributions we've made to New York City over the years.
"I will be identifying exciting new opportunities for us and working with our existing investors and a growing network of new investors and guiding the expansion of our business with the exceptionally creative, hands-on development and management approach for which Macklowe Properties is known."
Macklowe Properties is now developing 510 Madison Avenue, a 30-story cloudbuster at 53rd Street; and redeveloping 1330 Avenue of the Americas, between 53rd and 54th streets.
Billy Macklowe also serves on the Board of Governors of the Real Estate Board of New York and the photography acquisitions committee of the Guggenheim Museum, and is a member of Young Presidents' Organization International, a young leaders association.