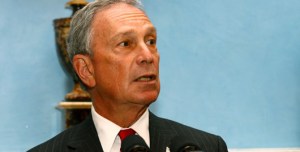 Spanish-language television ads that feature Michael Bloomberg encouraging people to vote are tentatively scheduled to air in New York, New Jersey and Connecticut in mid to late August and September, according to a person familiar with the plans.
The ads are part of a nationwide campaign called "Ya es Hora," which is produced by the Spanish-language television network Univision and will feature mayors from around the country.
Univision has produced similar public service announcements in the past, but this is the first year they've included mayors. (Bloomberg, however, has touted his Spanish skills before.)
A person familiar with the program said they decided to include mayors like Bloomberg, Miami Mayor Manny Diaz, San Francisco Mayor Gavin Newsom and others because they'll be recognized outside their city's borders.
It's the latest example of Bloomberg speaking to a valuable segment of the electorate beyond the borders of the city. Earlier this month, Bloomberg spoke to Jewish voters in Florida about Barack Obama and false rumors. At the time, he also reminded the audience that John McCain has been the victim of such smears.