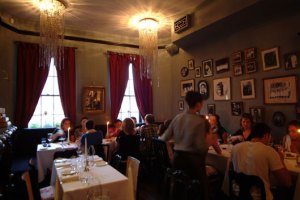 After a mediocre dinner at Bobo last fall, I decided not to go back. Let them sink without my help, I thought.
I was sorry because the restaurant, which is on two floors of a Village brownstone, has a quirky charm. I liked the cozy subterranean bar, with its low beamed ceiling and bare brick walls, and the candle-lit dining room upstairs, hung with crystal chandeliers and filled with knickknacks, books and old family photographs. I felt as though I were eating in a private house.
So when I learned recently that Bobo had replaced its chef, I returned for another look.
Bobo is named after New York Times columnist David Brooks' turn-of-the-century neologism, which melds "bourgeois" and "bohemian" to refer to, as the restaurant's press release sums it up, "a group of people who straddle the creative Bohemian realm and the Bourgeoisie [sic] world of economic achievement"—in other words, the folks who go to Bobo.
A few years past its due date, perhaps, but all the good restaurant names have been taken.
If you missed it the first time around, Mr. Brooks delineated the subspecies: "These are the people who are thriving in the information age," he told Gwen Ifill on PBS (Fox News for bobos) in 2000. "You go into their homes and they've got these renovated kitchens that are the size of aircraft hangars, with plumbing. You know, you see the big sub-zero refrigerators and you open the door and you think, they could stick an in-law suite in the side."
Emphasis on the first bo, I should say.
ON A RECENT EVENING, eight lovely bobos who looked as though they'd just walked out of a late-afternoon screening of Sex and the City were at a nearby table, discussing dating and perhaps refrigerators. They wore skinny-strapped dresses and big costume jewelry. They carted those enormous gold-tooled handbags, large enough to stick a German shepherd in, that suggest to me not "bobo" so much as bimbo. But, as a footnote on the menu says, the restaurant hopes to become "a clubhouse for those with a modern perspective on old-fashioned fun." In 2008 New York, this appears to mean a great-looking international young crowd, among them many Brazilians and Europeans, and girls, girls, girls. Where on earth do they all come from? Hey, boys! Step away from the computer and come out for a drink or two.
In that department, Bobo delivers: There are generous, well-made cocktails, including the Wibble (sloe gin and grapefruit), a cucumber margarita, and Hendrick's gin with Pimm's No. 1. If you dine in the bar area, your evening is punctuated by the sound of a martini shaker, rattling like a pair of maracas.
The wine list, on the other hand, is short and focuses on small, often far-flung producers, many of them organic. It could use a few more bottles under $50.
Bobo's water is mis en bouteille au château: as another footnote on the menu states proudly, "In addition to recycling our cooking oil and garbage and using renewable energy sources, we also serve purified still and sparkling water." It's $1 a pop, which makes it either cheaper or more expensive than usual, depending on your drinking habits. At least there are no plastic bottles!
And what about that revamped kitchen? The chef, Jared Stafford-Hill, was previously at Hearth, and brings with him that restaurant's emphasis on simple and fresh food—local, of course, without gimmicks. It's served on elegant, mismatched old-fashioned china as well as modern white oversize dishes.
Standouts among the first courses include two rare seared cubes of tuna on white beans and arugula tossed in a nicely tart vinaigrette, and a thick pea soup sprinkled with olive oil and laced with lobster chunks and radish. Paper-thin slices of jamon serrano and manchego cheese come in a salad with crushed almonds, served with croutons spread with apricot jam. An asparagus-morel risotto would have been perfect had it not been over-salted.
Crudo—Bobo uses the Italian for raw fish—is a difficult and unforgiving dish because there is nothing to hide behind. The fish must taste as though it were swimming cheerfully around minutes before it reached your table; the olive oil and the sea salt must be of the best quality and judiciously applied. Happily, a plate of pristine, fresh slivered raw diver scallops lived up to my expectations. But on another night, had the wild salmon crudo been in the fridge too long? Or worse, left out, since it was at room temperature, and tasted even a little fishy?
IN CONTRAST, Mr. Stafford-Hill makes no missteps when he cooks the fish. A snowy wedge of halibut is garnished with baby leeks, asparagus and tapenade; the richness of white Alaskan salmon is counterbalanced with spicy fennel and a blood-orange sauce laced with pistachios. Mahi-mahi, tricky because it so easily dries out, fell apart under the fork in thick, moist flakes, on a bed of fresh chickpeas, bok choy and ramps.
But the roast chicken was ordinary, with soggy polenta, and the pork had an odd taste to it. "Like a cleaning product," complained my companion, who finished it nevertheless. An improperly rinsed plate, perhaps?
Bobo also needs a pastry chef. Apart from a delicate panna cotta with strawberry compote, the desserts were forgettable: crumble made with undercooked rhubarb, bland chocolate hazelnut cake, and strawberry shortcake with the texture of sludge.
Those caveats aside, I'm glad I returned. The food has improved dramatically with the arrival of Mr. Stafford-Hill. (The saddle of lamb was outstanding, three steaklike pieces that cut like soft butter.) And most of the dishes that misfired I tasted on a single night when a charity function was booked for the main dining room. Perhaps that party had put the kitchen in the weeds, as they say. But when it's on, Bobo is capable of serving two-star food (apart from the desserts).
Other plusses: The comely staff is friendly and efficient; the setting is delightful. There is even a garden, which I'd like to visit, if it ever stops raining.
mhodgson@observer.com