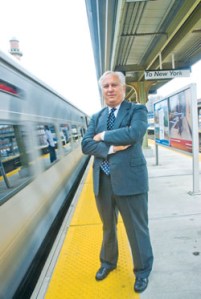 Once again, Assemblyman Richard Brodsky and the city are in a public spat.
Mr. Brodsky, the most vocal legislative opponent of the mayor's congestion pricing plan, issued a statement today publicly criticizing the Bloomberg administration's concerns regarding a bill that would reform public authorities. Mr. Brodsky had been in three-way talks with the governor's office and the state Senate, and told us last week that the city raised new problems with the bill days before the end of the legislative session.
Based on a summary of the city's objections that Mr. Brodksy sent out, it seems the city is concerned about the independence of appointees on public authority boards, among other issues related to oversight.
From a letter Mr. Brodsky, a Westchester Democrat, wrote to Mayor Bloomberg today:
Now, at the last minute the City has produced a list of demands which would destroy the progress we've made on reaching a consensus, make the system worse than it is today, and leave the problems we've identified completely unchanged. … If a theme emerges from your amendments, it is to leave the executive in explicit charge, all-powerful and unrestrained, and hope for the best. That hasn't worked in Washington, and the drive for unrestrained executive power won't work here either. In New York these are by constitution and law not part of the executive branch, and your amendments undercut those fundamental institutional decisions.
We're waiting on a response from the city, but the Bloomberg administration told The Times today that it had concerns that the bill would hinder economic development and public accountability.
Update 4:05 p.m.
Statement from Farrell Sklerov, spokesman for Mayor Bloomberg:
Our concerns with the bill today are the same as those we raised last year. As conceived, the bill would reduce public accountability and hinder economic development. These concerns are neither last-minute nor trivial, but we remain eager to engage in a transparent debate about reform.