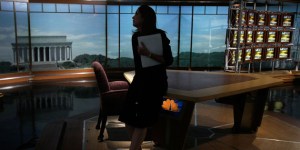 On Sunday morning, Tom Brokaw hosted a special edition of Meet the Press, honoring the late Tim Russert. He was joined in the Meet the Press studio in Washington D.C. by James Carville, Mary Matalin, Mike Barnicle, Gwen Ifill, Doris Kearns Goodwin, and MTP Executive Producer Betsy Fischer. Maria Shriver patched in from Sun Valley, Idaho.
"Tim has a very large wooden sign in his office and it's going to be our mantra for this morning," said Mr. Brokaw at the outset. "It says, 'thou shall not whine.' If I could add anything to that, I think, thou shall not weep or cry this morning. This is a celebration."
Over the next hour, his colleagues celebrated Mr. Russert, his show, his role in Washington politics, and his pioneering style of interviewing his guests.
Part of the legend of Mr. Russert's life in D.C. was that he would never be seen out on the town on Saturday evenings, the night before Meet the Press. He was always too busy preparing. Throughout the show on Sunday, his colleagues argued that Mr. Russert's commitment to preparing properly was not just a part of his legend but also a fundamental reason for the show's success.
"He would come here early in the morning, earlier than anybody else who ever prepared for these broadcasts," said Mr. Brokaw. "And he would rehearse the questions. I mean, he would read them out and, and look to the camera and do them."
"There was nobody more prepared than Tim Russert himself when people would come on this show, and he would spend–and he called it a luxury–he would spend all week preparing for this show, reading everything," said Ms. Fischer. "He never once sat in that chair unprepared. He would prepare for a three-hour show."
"And the way he would structure the questions was very lawyerly," she added. "We–he, he always knew how a candidate was going to respond, and he was, he was prepared enough to know that. And he would sketch it out in his mind: "I'm going to ask A, that'll get us to B, that'll get us around to C, and then there's D." And he, he knew how to get you into that cycle, and he was very skilled at that."
"I think what Tim more than anything didn't like is a candidate who wasn't prepared," said Mr. Carville. "If you come in, and you're prepared and you say some things, you're right, you're going to get crossed up a little bit and sometimes you say, 'Yeah, you know, I changed my mind.' And he was always amused and kind of liked that. I think that the biggest insult to him was that someone would come on here and wasn't prepared for the show, didn't take his show seriously–he did have the most serious show on television. And if you came on, it didn't matter if you were a Republican or Democrat, or you were a liberal or conservative, if you came prepared…it was going to be a good interview."