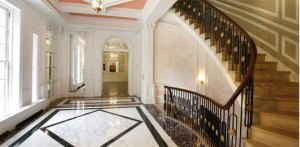 Like the 1998 BusinessWeek cover story that christened her "THE PROPHET OF WALL STREET," profiles of Goldman Sachs' famously bullish senior strategist Abby Joseph Cohen merrily point out that she's spent her whole life in the same middle-class Queens neighborhood.
But last month she finally arrived in Manhattan, buying a co-op from a billionaire's son: Ms. Cohen and her husband, David, the NYPD's labor counsel, spent $7.5 million for an eight-room apartment at the Majestic on Central Park West, according to city records.
Only in Wes Anderson films do analysts who can alter global markets live on New York blocks called something like 212th Street, which is near where Ms. Cohen bought her Queens house in 1983, according to city records. The new Manhattan apartment, with its $4,514.94 monthly maintenance and its wood-burning fireplace, walnut floors, wraparound master bedroom windows, park-facing library, serious dining room and oversize maid's room, makes sense for a woman who was billed above Henry Kissinger (but below Bernard-Henri Levy) in an Israeli discussion panel last month on "Facing Tomorrow."
The Majestic apartment was sold by Michelle Grabanski and Bill Pohlad, the mild-mannered son of a Minnesota billionaire and a producer of Brokeback Mountain, A Prairie Home Companion and Terrence Malick's mystical new Sean Penn-Brad Pitt film, Tree of Life.
"Everything changed when this Medici came into my life," Mr. Penn has said of the non-stingy Mr. Pohlad. "He's the first producer I've ever worked with where I am the one to bring up the money issues."
Mr. Pohlad apparently doesn't fuss over real estate penny-pinching either. He and his wife spent $8.2 million on the apartment in June 2006, which means they probably should have gotten twice as much in this sale. Instead he lost $700,000, not getting close to the $7,995,000 he was asking as of last September, let alone the apartment's original $8,795,000 ticket price from last June.
Luckily, his father, Carl, owns the Minnesota Twins and happens to be the richest owner in Major League Baseball, which means the co-op sale won't hurt the producer or his Brad Pitt film. Reached at her office, listing broker Pamela D'Arc wouldn't comment on the sale or that $700,000 loss, other than to say: "I cannot speak to that, I really can't. But, you know, there are certainly market conditions."
But family money probably explains the sale better than any market details. "I mean, obviously," the broker said, "there are different situations that surround each sale."
mabelson@observer.com