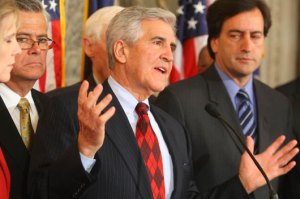 ALBANY—After a stretch long enough for people in state government to have forgotten that it was ever otherwise, Albany-dwellers are preparing for life after Joe Bruno, the 32-year incumbent who has helped define the capital's three-men-in-a-room culture.
"Oh, it's going to suck. It's going to suck," said one photographer who works in Albany. "This place is going to be half as much fun to cover. This guy was larger than life."
Mr. Bruno, horse enthusiast, former boxer, and ex-majority leader of the State Senate, departs at the end of a legislative session in which his chief accomplishments have been defensive in nature: He blocked a plan to cap property taxes that his allies in the teachers' union opposed; struck down an early plan by Assembly Democrats to tax millionaires; and, most memorably, survived a political death struggle with Eliot Spitzer.
But Mr. Bruno did deliver for his Republican colleagues, carrying back to Albany with him a $500,000 donation from Mayor Michael Bloomberg who, at the time, was hoping to pass congestion pricing. (It died without the Assembly or Senate voting on it.)
So, 13 years after Mr. Bruno seized power in a coup following the election of George Pataki, what will change when he's gone, apart from a possibly precipitous decline in photo opportunities?
"Nothing—there will be no change," said Barbara Bartoletti, the legislative director for the League of Women Voters.
Sitting inside a cafe in the Capitol, where she was discussing the issue with two foreign-exchange students, Bartoletti said, "The next leader—and we know now that it's going to be Dean Skelos of Nassau County—is probably not as open as Joe, does not have Joe's humor. If anything, the three men in a room will be even more pronounced. Oh yeah. Oh yeah."
Ms. Bartoletti added, "There's only a couple of things that change this institution. The press; redistricting and demographics switch; and to some extent, scandal."
There is one other thing, of course, which is the possibility of the State Senate changing partisan hands this November, in which case the three men in the room would all be Democrats.
Even then, though, there's no particular reason to believe that business will get done, or not done, much differently. The shot-calling formula, for the foreseeable future, is still governor plus (possibly weakened) Senate majority leader plus Sheldon Silver.
"In this business, you're remembered for as long as you're in power," said State Senator John Bonacic, a Republican from the New Paltz area who called on Mr. Bruno to step down two years ago after he admitted to being under a federal probe for his personal business activities. "After you leave, people will dwell on who's in power."
"What would make me much more optimistic?" Mr. Bonacic asked. "If members of the Assembly made a move to replace the speaker in the Assembly."
Mr. Paterson, who had a close relationship with Mr. Bruno, suggested that things could continue in a similar vein with Mr. Skelos running the Senate.
"For eight years, he was the deputy majority leader, and I was the deputy minority leader, and we used to debate each other on the floor for all my time," said the governor, speaking to reporters at the back of the Assembly chambers shortly after Mr. Skelos was named by the Senate Republicans as Mr. Bruno's replacement. "He is in a lot of ways like Senator Bruno, but he has his own style."
Assemblyman Keith Wright, another Democrat from Harlem, had a more typically uncertain reaction to the prospect of a Bruno-less Albany.
He said, "It's the end of an era, shit. I mean, I remember Joe when he was trying to end rent control. The political stuff, I think it's probably going to get worse. But I don't know Skelos. We'll see."
apaybarah@observer.com