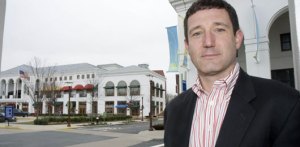 Back in April, as I was trying to figure out how the hell to get out to Glendale for my interview with the Cash Giveaway King of Queens, Damon Hemmerdinger, development director for the Shops at Atlas Park, I asked his rep:
"Think ol' Dale [Hemmerdinger, M.T.A. chairman and also Damon's father] can hook me up with a closer subway stop?"
"Funny!" she said. "But the bus stop right in front is relatively new so consider yourself lucky!"
Luck is one way to put it. Some city officials call it fishy.
According to Friday's Metro, City Council members are upset about the new bus service, accusing M.T.A. of playing favorites in sending extra shuttles to and from the Hemmerdingers' far-flung shopping mall:
The mall was already served by the Q29 bus last summer, when the Q54 also began to make the trip. Within days of Hemmerdinger's confirmation in October, a study of Q54 ridership was undertaken, and soon the MTA recommended extending the Q45 so passengers could be let off at Atlas Park.
Councilman John Liu is quoted as calling the three-bus service to Atlas Park "overkill."
The article also noted that the Shops at Atlas Park now appears on bus maps.
But! NYC Transit planning chief Peter Cafiero suggested that expanded service to that part of Queens was greatly needed, anyway, noting that requests for extra buses were received as early as 2005, prior to the elder Mr. Hemmerdinger's tenure as M.T.A. boss.
On my own trip back from Atlas Park, I hitched a ride on the Q54 — and it was packed, albeit only picking up a handful of passengers at the shopping mall. This reporter had to stand the whole ride back to the L train.