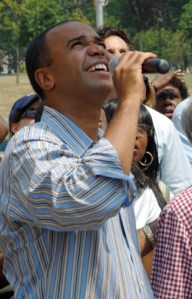 Adolfo Carrion will host Barack Obama and John McCain at a national conference of Latino elected officials meeting in Washington, D.C., on Saturday, June 28.
Some Democratic officials, like Representative Nydia Velazquez, have said Obama has a problem connecting with Latino voters, and argued McCain's immigration policy is viewed so positively among Latinos that some may decide to vote Republican.
In a public statement, Carrion, who is president of the National Association of Latino Elected and Appointed Officials, said, "Latino voters are going to play a decisive role in the general election and the community is ready to hear both candidates make their case."
Also attending the four-day event are Bill Richardson, Nancy Pelosi and Harry Reid.