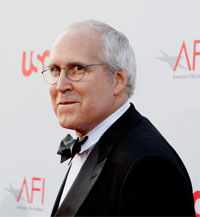 Once again Martha Stewart has chronicled her social life on her blog and posted photos from her Second Annual Peony Party at her farm in Bedford, New York. Yes, it was a party to celebrate a flower, which is a way for Ms. Stewart to show off her exceptional gardening skills. (Or those of her gardners.) "When my gardens are looking so amazing, I just love sharing with my friends," she writes.
Most of the guests photographed seem to be Ms. Stewart's employees: her housekeeper Lily, stylist Tom Borgese, gardeners Kim, George, and Erika, her chef Pierre, Mary the personal trainer, property director Mike Fiore, assistant Kate, and seven Martha Stewart Living Omnimedia employees including chairman Charles Koppelman.
Oh, but wait! Who's that tall man in a denim jacket chatting up the crowd? Why, it's Chevy Chase!
Mr. Chase told us at the Baby Mama premiere a few months ago that he currently resides in upstate New York. Maybe he simply dropped by his neighbor's for some gardening tips?