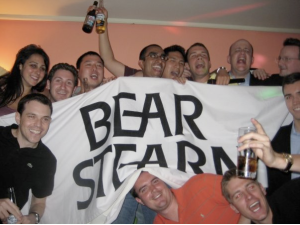 Two Bear Stearns fund managers were arrested for securities and wire fraud this morning, becoming the first executives to face criminal charges in the wake of the subprime mortgage debacle. Wearing a polo shirt, a sport coat, and incongruous manacles, Ralph Cioffi was escorted from his home in Manhattan to federal court in Brooklyn under the bright morning sun, while his alleged co-conspirator, Matthew Tannin, was picked up in New Jersey, the AP reported today.
The nine-count indictment against the duo includes charges of conspiracy, securities fraud and wire fraud.
The Securities and Exchange Commission also filed a separate complaint on Thursday, accusing Mssrs. Tannin and Cioffi of having "deceived their own investors, as well as the fund's institutional counterparts, by fraudulently concealing from them the full extent of the fund's deepening troubles," in the first five months of 2007.
They're not the only ones going down today. The F.B.I. said it had arrested about 300 real estate industry players on charges related to mortgage fraud since March — including dozens over the last two days. The Justice Department is expected to release the names of the most recent arrests this afternoon.
While Thursday may be remembered as a day of karmic justice in the subprime crisis, the younger, former Bear frat boys—er employees—had a going-away party. We guess getting laid off doesn't look so bad when people start getting arrested.