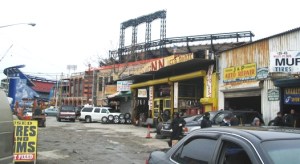 The Bloomberg administration has cleared one of many obstacles standing in the way of redevelopment at Willets Point, reaching agreements with the numerous unions that were opposing the 61-acre project by Shea Stadium.
Members of the Central Labor Council, which generally wields strong influence with City Council members, had been pressuring the administration for wage and other guarantees before giving support to the multibillion-dollar project.
"We are wholeheartedly behind this project now," said Neal Kwatra, the political director for UNITE HERE! who was working with the New York Hotel and Motel Trades Council. Mr. Kwatra said the hotel council was now calling on the City Council to support the project.
The city was said to have reached agreements with many of the other unions some weeks ago, and now the administration reached an understanding Tuesday with the hotel council. Mr. Kwatra said the two parties made a "roadmap" to "ensuring that there's an efficient and effective way for that hotel and convention center ultimately to be union."
The agreements with the unions—a city spokesman and a Central Labor Council spokeswoman did not immediately return requests for comment—ease some pressure on the Bloomberg administration and its Economic Development Corporation, but many other outstanding issues remain.
Mr. Monserrate, the local Council member who has led criticism of the planned project, said that of paramount concern now was the possible widespread use of eminent domain and the level of affordable housing at the site.
"I commend the administration and the EDC that has moved it along. However, there are still other issues that are still as of yet unresolved," he said.
"I am not prepared to support a wholesale use of eminent domain," he said, adding that the city's proposed amount of below-market-rate housing—20 percent—was not enough. "Twenty percent is a ridiculous figure to put out."
Earlier in the day, Deputy Mayor Robert Lieber, speaking at a Crain's breakfast forum, called the initiative "one of the administration's most important redevelopment projects."
"Other administrations have tried to redevelop Willets Point, but none have really ever established a plan that has sufficient enough momentum," he said.