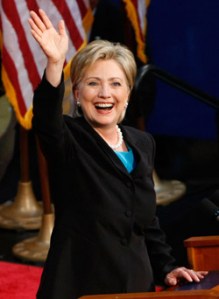 Hillary Clinton wasted no time in hitting the campaign trail as a surrogate for Barack Obama after their joint appearance earlier in the day, telling an auditorium of black teenagers that Obama sends "each and every one of you his best wishes."
Speaking Friday evening at Columbia University for the first graduation of The Eagle Academy For Young Men, a school she helped start, Clinton said, "Earlier today I had the great pleasure of being in a place called Unity, New Hampshire." She added, "We declared that we would go back together to Unity, New Hampshire to pledge our commitment, together, to change this country."
She told Obama's story.
"Senator Obama has lived the American Dream. The son of a single mother, raised by his grandparents, he had the opportunity to go to a good school and then to use his God-given talents and his willingness to work hard to pursue his own dreams and today, out in that field in Unity we both spoke about how each of us, individually and together, is committed to making it possible for every young person in this great country of ours to fulfill his or her own dreams."
Dressed in the same blue pantsuit she wore earlier today at the big event, Clinton looked relaxed and laughed along with the speakers.
Before she rose to the podium, Hill Harper, an actor on the television program CSI, addressed the graduates, and said that earlier in the week he had received a telephone call from his Harvard Law School classmate Barack Obama, whose name prompted a cheer in the crowd. "He said, 'Hill, I need you to do something,'" Harper said.
Obama, he explained, asked him to write a check. Harper said he protested to Obama that he had already given to him. Obama responded, according to Harper: "I want you to write a check for Senator Hillary Clinton."
Harper then flourished a check for $2,300 and walked it over to Clinton and gave her a hug. (Harper also gave an equivalent check to the entire Eagle Academy.)
Political theatrics aside, the ceremony had all the trappings of a ordinary graduation. "Wind Beneath My Wings" and "Celebration" were played. Robes were worn. The laureates posed for pictures and lifted their arms as they made their way to the front row. (They had filed into the auditorium to the "Flying High Now" theme from Rocky, which Clinton adopted during the later stages of her campaign.)
Outside the event, as Clinton climbed into a waiting SUV, she was asked about Obama calling his supporters to help erase her debt. She replied, "We had a great day today."