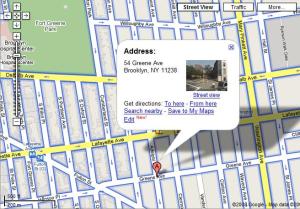 Congressional candidate and former Real World star Kevin Powell will be opening up a campaign office and sharing it with Brooklyn for Barack, a large independent organization that helped Obama carry the district on February 5.
The office at 54 Greene Avenue opens Saturday, and, according to a media advisory "painting begins: 9 am/Petitioning begins: 11 am."
Powell is trying to unseat Representative Ed Towns, who has represented the 10th Congressional district (Fort Greene, Bed-Sty, Brownsville, East New York and Canarsie) since 1983, but only narrowly won re-election in 2006. This year, a few unions, like SEIU 1199, are withholding support.
Towns, like all of his Democratic colleagues in New York's House delegation, supported Hillary Clinton in the primary.
The office opening is significant because it's the first major signal (that I've seen, anyway) that an organized group of Obama supporters in New York are shifting their focus to local races and aligning with other candidates.
Powell, a writer and community activist, will be relying heavily on the Obama supporters in Brooklyn for campaign help. The head of Brooklyn for Barack, Jordan Thomas, is supporting Powell, as is Obama fund-raiser Arthur Leopold.
Here's the email Powell sent to supporter about the office opening.
THIS SATURDAY, JUNE 14th, we will be there all day, 9am-7pm, painting and
organizing our new offices. Here is how YOU can help:
1. Drop by the office on Saturday and sign up to be a volunteer on our
campaign. You can start by helping us paint, removing old items in the
space, etc. And we DEFINITELY need folks to help us PETITION every single
day right through to midJuly. We will explain what PETITIONING means and how
it works.
2. We could always use the donation of quality furniture for the space, be
it chairs, a desk or two or three, lamps, file cabinets, etc. And we
certainly would welcome plants, artwork, or other items that will make it
feel like home, your home, our home, because this space will be open to the
community once we get rolling next week.
3. Send along anyone who is good with her or his hands, in terms of fixing
doors, windows, etc. We have an entire building to work with, including a
terrace, and we want to get it all together right away.
I am also happy to announce we are providing space for BROOKLYN FOR BARACK
inside our headquarters, because we share with Barack Obama a common vision
of progressive leadership and real action and real programs in our
communities, not just talk. BIG SHOUT OUT TO MR. JORDAN THOMAS, visionary
behind BROOKLYN FOR BARACK.
PLEASE CALL OR EMAIL Jeff Keilholtz, our Deputy Campaign Director, to
volunteer for kp4c, to help in any way you can, and PLEASE come by on
Saturday for our HOUSE PARTY: