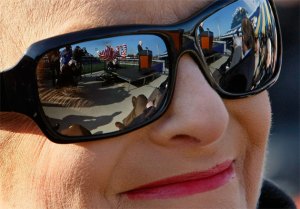 In April, Cindy McCain posted a few recipes, including one for a Passion Fruit Mousse and another for an Ahi Tuna with a Napa Cabbage Salad, in a section of John McCain's Web site titled Cindy's Recipes.
Unfortunately, these were not her recipes. They were lifted word-for-word from recipes on the Food Network website, one of which was penned by Rachael Ray. The McCains claimed that it was all an intern's fault and called it a "low-level unpaid staff debacle."
Mrs. McCain may have to find another intern to blame because somehow she's managed to do it again!
The current issue of Family Circle magazine put Michelle Obama's recipe for Shortbread Cookies with zest of lemon and orange against Mrs. McCain's Oatmeal Butterscotch Cookies for readers to choose the best. Now, according to the blog Meaningful Distraction, Ms. McCain's recipe appears to once again be plagiarized. This time from Hershey's.
Tsk, Tsk, Ms. McCain.