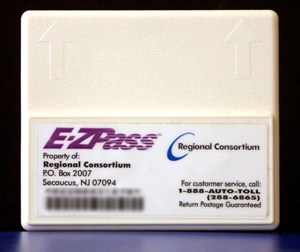 Observer intern Bharat Ayyar reports:
Andrew Cuomo made it clear today that he will be holding former and current M.T.A. board members "personally responsible" for using free E-ZPass tags he says are illegal, although he noted that there is a limit on how far back back the probe will reach.
Speaking during a press conference in his downtown office, the attorney general said he will start by recouping the funds. If the board does not vote to discontinue the practice of doling out free passes during a vote next week, Cuomo said, he will pursue litigation.
He would not say whether the board members will be fined or otherwise punished beyond paying restitution.
Board members are not supposed to receive a salary or any other type of compensation, but the practice of handing out free transit passes to M.T.A. board members–several of whom are multimillionaires–is decades old. About 60 M.T.A board members, past and present, have at least one free E-ZPass tag. (For example, former M.T.A. chair Peter Kalikow, who owns "45 or 48" cars, has eight).
A reporter brought up the fact that David Mack, a vice chairman of the M.T.A., told The New York Times in an article published today that he would not use–and therefore not be able to assess–the M.T.A. if he had to pay for it.
Cuomo responded: "I reject the notion that you would only use the M.T.A. if you had a free pass."