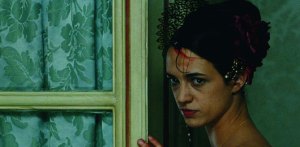 The Last Mistress (Une Vieille Maitresse)
Running time 104 minutes
Written and directed by Catherine Breillat
Starring Fu'ad Ait Aattou, Asia Argento, Roxane Mesquida, Claude Sarraute
Catherine Breillat's The Last Mistress (Une Vieille Maitresse), from her own screenplay, is based on Jules Barbey d'Aurevilly's provocative 19th-century novel, and is her most ambitious undertaking to date in terms of a formal narrative with period costumes and a targeted mainstream audience. Hence, most of the nudity and sexuality are deferred to the film's climax, in which a penniless and newly married aristocrat discovers that his passion for an old discarded mistress can outlast his supposedly eternally true love for a beautiful, virginal and wealthy heiress of noble lineage.
What is most interesting about this apparently conventional treatment of a vintage Gallic subject is the casting of a beautifully feminine but not effeminate newcomer, Fu'ad Ait Aattou, in the lead male role, that of Ryno de Marigny, whose betrothal to Hermangarde (Roxane Mesquida), the granddaughter of the ever protective Marquise de Flers (Claude Sarraute), stirs the gossip mavens of Paris, incarnated in the eagle-eyed Comtesse d'Artelles (Yolande Moreau) and her cynical consort, the Vicomte de Prony (Michael Lonsdale).
Waiting in the wings for the drama to unfold is Asia Argento's Spanish spitfire, La Vellini, who remains confident that Ryno will return to her eventually. The first half of the film consists of Ryno's detailed confession to the Marquise de Flers about the blood-stained beginnings of his infatuation with La Vellini, and its final disintegration, or so Marigny thinks, with his newfound love for Hermangarde.
La Vellini, of course, knows better, and the second half of the film describes the eventual triumph of the cynics, embodied in Mr. Lonsdale's sage expressions of doubt about the duration of a man's sexual fidelity to one woman. Ms. Breillat has forgone the anarchic force of her earlier forays into the still relatively underdeveloped realm of female sexuality. As a pioneer of sorts in her field, she has earned this temporary respite of classicism represented by The Last Mistress.
asarris@observer.com