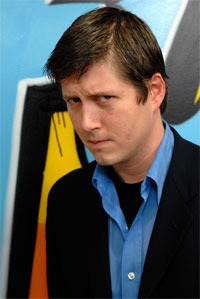 Will Leitch, editor of Gawker Media's popular sports blog, Deadspin, is joining New York Magazine as a contributing editor. In a farewell post, Mr. Leitch writes:
It is with heavy heart — yet mirthful disposition! — that we announce that our time as Deadspin editor is about to draw to a close. After almost three years of plugging away around here, we are leaving as editor of Deadspin on Friday, June 27. We have accepted a job as a contributing editor for New York magazine. We're excited about it, but, obviously, this has been our baby and our life every day for three years — which is about four decades in blog time — and we're too emotional about the whole thing to get into much more detail about how we feel about the whole matter.
Earlier this year, Mr. Leitch and Vanity Fair's Buzz Bissinger had a very public argument about the differences between journalism and blogging on HBO's Bob Costas Now.