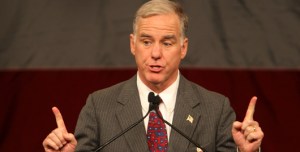 After Michelle Obama delivered a measured speech to gay and lesbian leaders at a Manhattan fund-raiser last night, Democratic National Committee chairman Howard Dean abandoned his prepared remarks in favor of some more pointed observations.
" I frankly don't believe the John McCain of 2000 would even consider voting for the John McCain of 2008, I really don't," said Dean.
"Saddest of all," Dean added, "John McCain was against torture until he supported the president's veto of the Democrats anti-water-boarding bill. This is a guy who appears not to have principles. And if you don't have principles when you are president, you shouldn't be president. Wanting to be president and serving America honorably in the armed forces is not a good enough reason to be president if you don't have a core set of beliefs that you are willing to stand for."
Dean went out of his way to welcome Hillary Clinton's supporters back into the fold and boast about the apparent triumph of his once-maligned 50-state strategy under hyper-funded nominee Barack Obama.
"I do want to support you all for supporting the 50-state strategy," said Dean, who added about Obama, "He's going to run a 50-state campaign, which is incredibly exciting — we haven't had one in a really long time."
Dean suggested that when Obama first became the nominee, he was worried about being an outcast, but then was put at ease that his 50-state strategy to contest elections and pour resources into races around the country would be the prevailing model.
"When the nominee becomes apparent, the nominee basically takes over the DNC, so basically I've had the first boss I've had in about 22 years," said Dean.
In talking about the hard-fought primary later in the speech, he said, "When I started the 50-state strategy," he said, "I didn't mean that every one of the counties and states in the country was going to matter in the primary."
Unlike Michelle Obama, Dean mentioned Hillary Clinton by name and made a concerted effort, after thanking the gay leaders in the room, to thank in particular "the people here who supported Hillary Clinton" and say how much he recognized "the emotional readjusting that has to go on in order for you to be here."
He spoke about this for some time.
"When you don't win a primary like that," he said, "as I can personally attest, it is tough, it is really tough, especially when there is a deep emotional bond with the candidate and in this case her supporters, or Barack's supporters as well. So whoever lost was going to have a really tough time. … I know personally — it is not easy and it is even harder for the supporters. So it is a special effort, those of you who are supporters of Senator Clinton, or have been supporters of Senator Clinton, so that you can contribute to the campaign of the person who beat Senator Clinton, and I recognize that and I deeply appreciate your willingness to put your country up front. And put aside your understandable deep emotional feelings about this campaign. We are a united Democratic Party."
After his speech, as Dean rushed to the elevator to catch a plane, I asked him if he felt at all vindicated by the reemergence of the 50-state strategy after so many of the party's leading donors and strategists, who favored a more traditional, targeted approach to expending Democratic resources, had spent so much time trashing it.
"I never talk about vindication — that's a bad thing to do in politics," said Dean. He went on to speak, again, about forthcoming Democratic victories across the country, including, he predicted, a takeover of the New York State Senate.
As the elevator doors slid open, a donor who had attended the fund-raiser wandered over and said, "Thank you for acknowledging Hillary supporters."