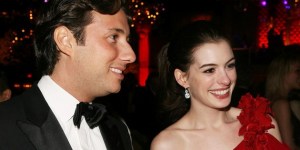 According to the Daily Mail, Anne Hathaway has broken up with her businessman boyfriend, Raffaello Follieri.
An "insider" tells the daily that 25-year-old Ms. Hathaway "made the painful decision to end their relationship because of the effects his controversial business dealings could have on her career."
Mr. Follieri, 29, recently made news when New York State Attorney General Andrew Cuomo revealed that he was investigating Mr. Follieri's charity, the Follieri Foundation, and issuing subpeonas for various financial records of the children's organization. And then there was the incident in April when Mr. Follieri was arrested in Manhattan for bouncing a $215,000 check to an associate, but charges were dropped after he turned himself in to the police and paid off the debt.
Ms. Hathaway was until recently on the board of directors for the charity, but when asked about the investigation last week, her rep told the New York Post, "Since she is no longer associated with the foundation, why would you expect her to be familiar with all of this?
The "source" added, "It's heartbreaking for her to dump him, and she's devastated that it's come to this, but she really didn't have a choice. His scandals were hurting her reputation."
Another unnamed source characterized as a "friend" told the paper:
"They fought so much while Anne was making [Bride Wars], she genuinely started to wonder if the relationship was worth all the pain. Raffaello would only ever visit her on sets for short periods of time. He was very caught up in his social life and making connections in New York, and stories would get back to Anne about his late nights and carousing, usually with models in the immediate vicinity."