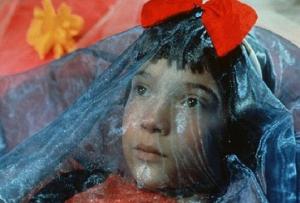 Today on Salon, Sarah Bird pens a humor piece in which she wishes her son were gay.
With palpable yearning, Ms. Bird writes:
How could I not dream of having a son who cared deeply about all the right things: fashion, musical theater, interior décor? But mostly a son who cared deeply about the most right thing of all: his mother? How could I not yearn for a son who would tell me that the bias cut emphasized my saddlebag thighs, that no one was staining concrete anymore, that the tiniest bit of white on the upper lids would open up my eyes and make me look 10 years younger?
Sadly, she finds herself stuck with a straight kid. "After straight boys learn how to order pizza, Mom becomes an abstraction. Straight sons sort of get that their mom is a tremendously powerful force in their lives, but, like the Federal Reserve System, they have no real understanding of or interest in how she works."
Back in 2005, Ayelet Waldman—who once incurred the wrath of mothers the world over for suggesting she loved her husband, Pulitzer Prize winning novelist Michael Chabon, more than her children—wrote about her own mixed feelings about her son's burgeoning heterosexuality for Salon.
In a piece called "You're Supposed to Marry the Person You Love, Mom," Ms. Waldman employed similar logic to Ms. Bird's when she wrote of her then 7-year-old son:
Zeke is already embarrassed about the photographs I took of him as a toddler in the little pink nightie-and-peignoir set we bought him because he was jealous of his older sister's. Despite his easy acceptance of gay people and even the possibility of being gay, he would sooner be caught naked in the classroom than be seen playing with one of his little sister's baby dolls. And even our most broad-minded relatives and friends would get a little uncomfortable when they saw him decked out in full Divine regalia. It is worse when I explain that I hope Zeke is gay. Think about it, I say. How many straight men maintain inappropriately intimate relationships with their mothers? How many shop with them? I want a gay son. People laugh, but they assume I'm kidding. I'm not.