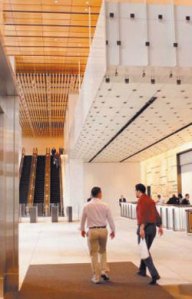 Tenants beware! Time's running out to lease space in the Bank of America tower at One Bryant Park, the Durst Organization's shiny and wildly successful new tower on Sixth Avenue.
Apex Capital Management, a private investment firm, based in Hong Kong and New York, that is what real estate types would call "price insensitive," has agreed to pay more than $160 for each of the 7,300 square feet it leased on the tower's 37th floor. In so doing, the firm snapped up one of the last remaining spaces in the 54-story green building on Sixth Avenue, between 42nd and 43rd streets. Now only 30,000 square feet remain, all of it also on the 37th floor.
Douglas Durst, the developer of the building, said he hadn't expected the tower to fill up so quickly—just a month after anchor tenant Bank of America began moving in.
"It feels really good," Mr. Durst said.
We bet.
Would-be tenants will have to pay through the nose for the remaining offices, and for the chance to rub shoulders with other members of the price-insensitive set—like Al Gore, whose Generation Investment Management finalized its lease in May.
Mr. Durst said he plans to subdivide the remaining square footage into four or five smaller units, with asking rents around $190 a square foot. "We're finding that the market is for smaller tenants," Mr. Durst said.
Mr. Durst was represented by in-house brokers Eric Engelhardt and Tom Bow; Apex was represented by GVA Williams brokers Richard Plehn and Greg Wang.
drubinstein@observer.com