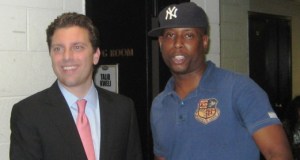 The Hill reports that Barack Obama told the Congressional Black Caucus three times that he "bit [his] tongue" about Hillary Clinton during the primary campaign.
In New Hampshire, Michelle Obama praised Clinton.
The City Council might ban the act of climbing buildings.
The Economist is highly skeptical of Obama's decision to opt out of public financing.
The Commission on Presidential Debates proposes three debates with a more conversational format.
The state G.O.P. added Rudy Giuliani, Al D'Amato and Linda Mondello to its list of McCain delegates, among others.
Ed Rendell said Bill Clinton needs to "get over" the primary
Predictably, McCain says Obama flip-flopped on guns.
Marc Ambinder defends Obama's bipartisanship.
A reporter goes deep on Obama and Bob Dylan.
Gay marriage is an issue in Jimmy Daroug's State Senate race .
PolitickerNJ's 2008 "Power List" is out.
Here's video of testimony at the zoning hearing from the unofficial mayor of Coney Island.
The Clinton campaign wants more money from the Obama people.
Grover Norquist writes a Financial Times op-ed called "How America's right will be roused into action."
The nation's largest labor union endorsed Obama.
Charlie Crist got lots of applause at his climate speech, except when he talked about offshore drilling.
Possible City Council candidate Julie Menin shows off her apartment to Page Six magazine.

In the comments section, Dan Jacoby sort of defends Michael Bloomberg's G.O.P. loyalty, while Yoda has his own take.
Chuck Schumer extended an invitation to the Queen of the Netherlands.