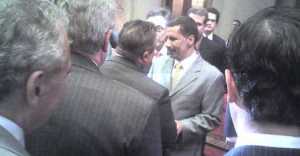 The Sun is reporting that a Brooklyn appeals court is set to allow state officials to recognize same-sex marriage, as per David Paterson's order.
Andrew Stengel notes that Dean Skelos, like Joe Bruno, has a park named after him.
Michelle Obama will headline a D.N.C. event this week at the Waldorf Astoria.
Phil Anderson reports a "major shakeup" in Steve Harrison's Congressional campaign.
Charlie Black is most likely not going to get fired.
Kirsten Gillibrand debuted her baby on the House floor.
Unity, New Hampshire is expecting the biggest crowd they've had since Arlo Guthrie performed there in the 70's.
Hillary Clinton was very warmly welcomed back to the Senate.
When Frank Powers died, Republicans hadn't yet finished collecting signatures for him, and now they will start all over again.
Former inspector general Kristine Hamann got a new job with Office of the Special Narcotics Prosecutor.
John McCain's deputy internet director says, at a technology conference, that the fact that his boss doesn't use a computer doesn't mean he can't understand the internet.
The Domino Sugar sign will be preserved when the site is developed.
Caesar Trunzo is going to run again.
For old times' sake, here's Joe Mondello introducing Bruno at the State Republican Party dinner last month.