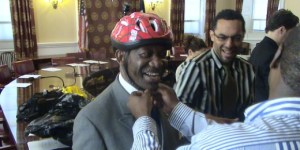 Steve Kornacki thinks Barack Obama's endorsement of an incumbent–but conservative–Democrat isn't really new.
A new poll from FOX shows Obama leading John McCain slightly, 42-39.
Josh Marshall doesn't think McCain is in a position to criticize Obama's decision about public financing.
Marc Ambinder has an idea of why the Obama campaign chose today to make the announcement.
Phil Anderson is OK with Obama's decision.
Michael Bouldin concurs.
Will Rumsfeld's slight actually help McCain?
Bill Clinton was spotted strolling around Chappaqua, drinking coffee.
The Economist takes on Anthony Weiner's efforts to help foreign models.
David Paterson told truckers what they did not want to hear.
The Assembly passed an energy bill that will allow companies to save money by saving energy.
Michael Bloomberg isn't getting much from Albany, but his "block-the-box" legislation did pass.
Irene Liu gets her hands on a poll done in Serf Maltese's district, which Republicans and Democrats interpret differently.
Here's video of George Pataki at the environmental event where Bloomberg spoke.
Paul Schindler looks at the Working Family Party's position on same-sex marriage.
Carolyn McCarthy, a Democratic congresswoman from Long Island, wants to lift the ban on offshore drilling.
Jessica Lappin has a June 25 fund-raiser at Opal.
Ed Koch sides with Fred Dicker.
A Harlem blogger started a petition to name a street after James Baldwin.
The G train won't get service increases, and lots of riders are angry.