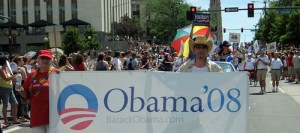 David Plouffe says Barack Obama won't pick a running mate based on states he needs to win.
John McCain would like you to remember his energy plan is now called The Lexington Project.
In Las Vegas, McCain called for more nuclear energy and said he's in favor of disposing of nuclear waste at the controversial Yucca Mountain site.
Albany lawmakers approved Michael Bloomberg's Gansevoort waste transfer station.
Phil Anderson met Don Barber, a candidate for State Senate, and says he's "the real deal."
Liz notes that organized labor didn't have much to say about Dean Skelos' new position.
The plans for the Domino Sugar site are out.
Ed Koch endorsed Mike McMahon.
A Bronx blogger doesn't think all that many officials are trying to hold the Yankees and the city accountable.
In the comments section, Larry Littlefield doubts Skelos will change his perspective.
Manhattan rents went down?