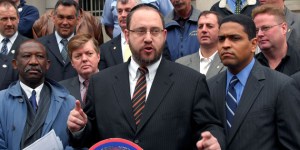 Councilman Simcha Felder is not getting into the city comptroller race, but he will run for the Brooklyn State Senate seat currently held by fellow Democrat Kevin Parker, according to a source.
The five-way comptroller's race was always going to be a tough haul for Felder. (He never declared, but gave every indication he would enter the race). Felder, who is an Orthodox Jew, was one of three candidates from Brooklyn (along with David Yassky and Jim Brennan) running for comptroller, and one of four Jewish candidates (in addition to Yassky, Melinda Katz and David Weprin). The fifth candidate, Adolfo Carrion, is well-funded, and is the only Latino running citywide.
Felder has doubtless calculated that in a Senate race, the demographics will be more to his advantage. Parker, who is African American, is already facing a primary from City Councilman Kendall Stewart, who is Caribbean. If the votes split along ethnic lines, Felder could conceivably put together a winning tally on the strength of the district's Orthodox Jewish population, which is concentrated in Borough Park.
In 2006, Parker faced a primary from another Orthodox Jew, Noach Dear. Parker won with 11,486 votes to Dear's 7,451. But in the Borough Park section (the 45th Assembly district), Dear won with 3,142 votes, while Parker took only 179.
The 45th Assembly district is represented by Dov Hikind, who has told some members of the Jewish community that he wanted Parker unseated. Felder used to be Hikind's chief of staff.

A message left for Parker on his cell phone was not immediately returned, and Hikind, reached on his cell phone, declined to comment.
Felder is one of a couple of term-limited Council members who have decided to run for State Senate. (Democrats are expected to overcome the Republicans' two-seat majority in the State Senate in November.) In Jackson Heights, Democratic City Councilman Hiram Monserrate has all but declared he will run against Democratic State Senator John Sabini. In Glen Oaks, Democratic City Councilman Jim Gennaro is challenging Republican State Senator Frank Padavan. And in Middle Village, Democratic City Councilman Joe Addabbo is running against Republican State Senator Serf Maltese.