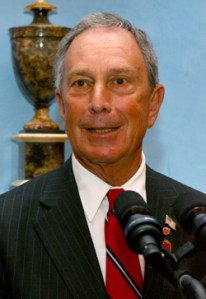 Not everyone is happy with the $59.1 billion budget that Michael Bloomberg and the City Council agreed upon last night, which preserved property tax cuts and school aid by cutting funds to cultural programs and senior centers.
"I'm very dissatisfied in terms of calling it a budget negotiation," Councilman Lew Fidler told me in an interview this morning. "A number of us went to the quote-unquote 'handshake' last night to support the speaker, but not because we thought there was a partnership with the mayor."
Fidler said Bloomberg "wanted to raise the property taxes."
Raising property taxes may be necessary if budget revenues continue to decline, Fidler acknowledged. But he complained that Bloomberg is "supposed to be the non-politician."
Fidler said of Bloomberg, "But what he was saying privately was, 'Let's do it now, instead of next year. We'll take the hit anyway, but we'll get two years' worth of dollars instead of one.'
"And that's great politics," Fidler said. "But it's bad policy. And every suggestion we made in terms of alternate revenues was met with, 'Raise the property taxes,' or, 'I'll consider that if you raise the property tax.'"
A Bloomberg administration source disputed Fidler's characterization of the mayor's position, but declined to be named for fear of speaking publicly about their private budget negotiations. This person said Fidler had no direct contact with the mayor or mayoral budget negotiators and that the administration proposed revenue-raising options only after council members proposed additional expenses.