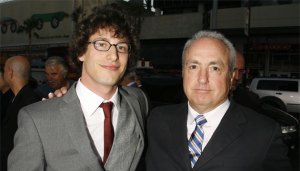 According to The Hollywood Reporter's Alex Woodson, Saturday Night Live executive producer Lorne Michaels received a "lifetime achievement award for the role that 'Saturday Night Live' has played in the development of online video" at last night's Webby Awards.
A lifetime moves pretty fast these days. Wasn't it just December 17, 2005 when SNL's first digital short, Lazy Sunday, debuted? And didn't NBC's legal team work furiously to pull it from video-sharing sites before deciding to launch something called NBBC because, "When 'Saturday Night Live' had a great clip of Lazy Sunday, YouTube made a lot of money off it… In the future, when we have a Lazy Sunday clip, NBBC will make a lot of money on it," according to Randy Falco, the president of the NBC Universal television group. And then didn't NBBC fold to make room for Hulu, a joint venture with News Corp.?
Man, that really does feel like a lifetime.