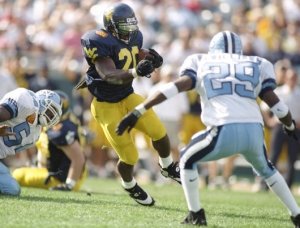 After 10 years of getting bruised and battered by the biggest linemen and linebackers in college and professional football, former West Virginia University and Pittsburgh Steelers standout Amos Zereoue is now trying to finesse his way to success in the smash-mouth New York City restaurant scene.
Which is tougher?
"Life in the New York restaurant scene–hands down," said the 5-foot-8, 200 pound, 31-year-old redshirt restaurateur, looking rather Usher-esque in a white suit and shades, during a boozy relaunch party Wednesday for his 2,200-square-foot eponymously named eatery, Zereoue, at 13 East 37th Street.
Originally opened in 2006, in the former Frere Jacques space, Mr. Zereoue's West African and French fusion restaurant has twice closed down for some needed retooling; most recently, a complete overhaul. "The painting, the lighting—everything," he said of the scope of the improvements, which ran into "tens of thousands of dollars," as he recently told Forbes magazine.
"It's not coming in and just sitting down in the back and saying, 'I'm the boss,'" said Mr. Zereoue, who's been known to also lend a hand in the kitchen. "No, you have to make sure everyone's doing their jobs. You have to make sure everyone's happy. You have to make sure everything's accounted for. You have to deal with vendors. It's a lot of work."
It certainly helps to have a famous name — especially a guy once known as "Famous Amos" — backing the joint. But Mr. Zereoue said he tries to downplay his days as a baller as much as possible.
"If people ask, I'll talk about it," he told The Observer. "We're just trying to make it about the food and the ambiance and the culture, aside from the football thing. There's no pictures upstairs of me scoring touchdowns or anything."
"Well," he reconsidered, "downstairs we do."