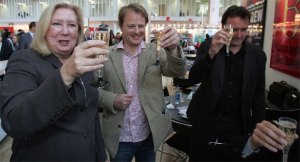 HarperCollins staff are reeling today in the wake of last night's stunning announcement that their CEO of ten years, Jane Friedman, has been replaced by her 41-year-old deputy, Brian Murray. At the weekly marketing meeting held this morning in the central conference room on the second floor of the HarperCollins building, Ms. Friedman briefly addressed staff from all over publicity, marketing, sales and editorial, telling them that today would be her last day.
According to several people who were present, Ms. Friedman—who normally oversees the Thursday morning marketing meetings—spoke with sadness, and left the room to a standing ovation when she was done. Mr. Murray addressed the room of shell-shocked employees immediately afterward, reassuring them that while Ms. Friedman was irreplaceable, the future of the News Corp.-owned publishing house was in good hands.
In what might have been an attempt to quell rumors about the possibility of News Corp. putting HarperCollins up for sale, Mr. Murray said he had had a reassuring conversation with Rupert Murdoch during which the News Corp. chairman indicated that no drastic changes were imminent.
It appears that almost no one at HarperCollins, including high-ranking publishers who reported directly to Ms. Friedman, had any advance warning that her departure was imminent. Nor is there any consensus on whether she is leaving on her own accord or under pressure from News Corp.
Michael Morrison, who was promoted this morning in the wake of the shake-up to HarperCollins' No. 2 job, said in an interview that Ms. Friedman had been thinking about leaving and discussing the possibility with close colleagues (including him) for about a year.
"Jane's been talking about it for a long time and really sort of searching her soul to figure out, you know, what she wanted to do in the years to come," Mr. Morrison said.
But several people at the publishing house said the going assumption throughout the building was that Ms. Friedman had been forced out, though no one has come forward with any evidence to support that notion.
During her address this morning, Ms. Friedman, whose contract with News Corp. was set to expire in November, did not explain the timing of her departure, saying only that it was time for her to move on. She said also that she was planning to take the summer off.