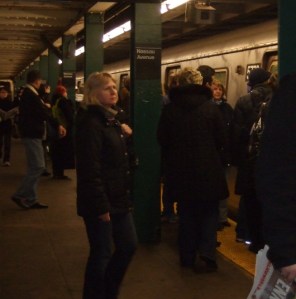 Advocates reacted with disappointment and worry to the news that the G train will not receive the service increases that the Metropolitan Transit Authority promised riders in February.
"The M.T.A. has done a grave injustice to G train riders and commuters in Brooklyn if it fails to enact service enhancements," said State Assemblyman Hakeem Jeffries of Brooklyn. In May, Mr. Jeffries and others launched a campaign to pressure the M.T.A. to increase the G's frequency and to restore its four-car trains to six cars.
"The M.T.A. seems to be primarily in the business of broken promises," Teresa Toro of Save the G said today. "Naturally, they should only make promises they can keep."
Ms. Toro, whose organization represents civic groups in Brooklyn and Queens, expressed concern over the unpredictable financial health of the transit agency. "I do worry that the M.T.A.'s fortunes seem to rise and fall very dramatically. … It really erodes rider confidence and taxpayers' confidence."
The planned G train upgrades included reducing wait times by up to seven minutes on weekday evenings. But Ms. Toro was reluctant to characterize these changes as improvements, since they would have meant terminating the line at Court Square in Queens. "A little more frequent service on half the route is not what Save the G sees as service enhancements. Period." She preferred to see a greater number of street transfers implemented.
M.T.A. officials have long maintained that the G's ridership is too low to warrant more frequent service, while riders in Brooklyn and Queens point to the boroughs' economic and population growth as evidence that something must be done for the line.
"If you look at the G train in terms of overall ridership, it paints an inaccurate picture," said Mr. Jeffries. "It clearly is not one of the most active subway lines in the city. However, when you look at ridership during key points in the day, such as the evening rush, there is overcrowding and there is insufficient service."
More than a dozen other trains will receive or benefit from improvements in the upcoming months, The New York Times reported today.
Although Mr. Jeffries has yet to speak with anyone at the M.T.A., he said he and other local elected officials will continue to lobby for a better G train.