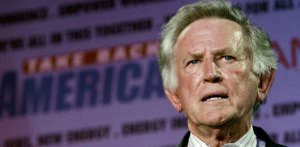 How fitting that Barack Obama made his final appearance of this primary season in St. Paul, Minn.—not so much because that's where Republicans will nominate Mr. Obama's opponent this summer, but rather because it's where the last Democrat to survive such a grueling and protracted intra-party war also camped out when the final votes were tallied.
Sequestered in his room at the Radisson hotel in St. Paul, former Vice President Walter Mondale spent the morning hours of Wednesday, June 6, 1984, dialing up uncommitted superdelegates and asking for their support. The final primaries had concluded the night before with Gary Hart, Mr. Mondale's relentless foe and the winner of the most primaries and caucuses, notching a surprisingly resounding victory in California, one that left Mr. Mondale a few dozen delegates short of the magic number of 1,967—and up against a self-imposed deadline of noon Wednesday to reach it.
Shortly after noon, Mr. Mondale entered one of the hotel's conference rooms to address the waiting press. "As of 11:59 this morning, central daylight time, over 2,008 delegates had pledged their support to me," he declared. "The race for the majority is now over."
But it wasn't, exactly.
Just like this year, neither candidate had accumulated enough pledged delegates during the primary season to claim an outright delegate majority. Thus, it fell to the superdelegates—some 568 of them back in '84, the first year such a species existed—to put one of them over the top.
But again, just like today, their commitments were flexible; they could pledge themselves to one candidate and flip to the other for any reason at any time, right up until the convention roll call. And, as with Hillary Clinton and Michigan in recent days, Mr. Hart was threatening to challenge the seating of bunches of Mondale delegates over a dispute that had simmered for much of the campaign.
And so, just after Mr. Mondale staked his claim in St. Paul, Mr. Hart made his own declaration from Los Angeles: "Welcome to overtime. It is not over."
Plenty of parallels have been drawn between the Clinton-Obama and Mondale-Hart races, always with Mr. Obama—the insurgent candidate of reformers, younger and college-educated voters, and political independents—playing the Hart role and Mrs. Clinton as Mr. Mondale, the establishment heavyweight and favorite of the party's traditional coalitions.
But now, with the final primaries in the books, it's Mr. Obama who is claiming the superdelegate-assisted victory that Mr. Mondale once did. And it's Mrs. Clinton who has been left, as Mr. Hart once was, to protest that the process isn't over—and to decide if she, too, will spend the pre-convention weeks in pursuit of delegates who have committed to her opponent.
The irony isn't lost on Mr. Hart, who now teaches at the University of Colorado-Denver and who has been one of Mr. Obama's top supporters in that state.
"Actually," he joked in an interview this week, "I think [Obama] is where I'd be if I had had $250 million."
Mr. Hart said that Mrs. Clinton has had less of an impetus than he did to wage an active campaign over the summer.
"I understood that the effort to convince superdelegates to support my candidacy was uphill," he said. "But when I began to make those calls the day after those last primaries, I had a winning streak and a sweep in California. It wasn't just Puerto Rico. It was a string of states, and the last—and biggest—state overwhelmingly.
"So I felt—and I'm sure it's pretty much the way she feels now—that that was still strong medicine to take to the superdelegates in terms of electability. It turned out not to work because overwhelmingly what I heard was, 'Well, regrettably, I made a commitment before the primaries began. I wish I hadn't, but I'm pledged.'"
When Mr. Hart made his "overtime" declaration, some of his supporters privately told the press that he'd quickly grasp the reality of his plight and back out well before the July convention in San Francisco. But he didn't.
"I think what I really was motivated by was the overwhelming sense of my delegates that they had worked very hard—some of them for a year or a year and a half or more—and that they wanted me to be nominated and to demonstrate their support even if I could not get the nomination," Mr. Hart said. "The same thing might happen here."
In fact, Mr. Hart believes that Mrs. Clinton could, if she wanted to, bring her candidacy to the August convention in Denver without threatening party unity.
"If [she and Obama] have a discussion—or even if their top people have a discussion—and her attitude is 'I am not going to pursue more delegates but I intend to let my supporters put my name in nomination at the convention and I simply want you to know that,' and then she suspends both in-front-of-the-scenes and behind-the-scenes campaigning, that's not a real threat to him."
That's not exactly the course that Mr. Hart chose for himself 24 years ago.