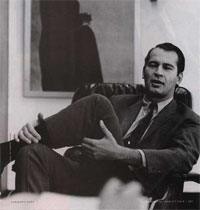 George Lois is nothing if not opinionated. The universally heralded adman and creator of Esquire's most canonical covers from the '60s, shares his take on AMC's Mad Men with The New York Times Magazine's Alex Witchel this week:
When I hear 'Mad Men,' it's the most irritating thing in the world to me. When you think of the '60s, you think about people like me who changed the advertising and design worlds. The creative revolution was the name of the game. This show gives you the impression it was all three-martini lunches. …
We worked from 5:30 in the morning until 10 at night. We had three women copywriters. We didn't bed secretaries. I introduced Xerox. It was hard, hard work and no nonsense. 'Mad Men' is typical of 'The Man in the Gray Flannel Suit,' those phony SOB's. I was a Greek bigmouth, a Korean War veteran. I used my ethnicity to promote my talent. Before you knew it, most of the great creative talent was Italian, Greek and Jewish. We broke through the terrible WASP-ness of the business.
Jerry Della Femina, another advertising heavyweight, tells Ms. Witchel, "'Mad Men' accurately reflects what went on. … The smoking, the prejudice and the bigotry. I interviewed at J. Walter Thompson for the Ford account and was told, 'We don't want your kind.' It took me two years to figure out that he meant I wasn't a WASP."