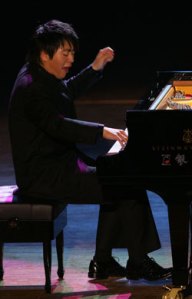 Chinese megastar Lang Lang, the hugely ebullient, swooned-over classical pianist, has a new duplex across the street from Carnegie Hall, according to city records.
His parents, onetime Chinese circus musician Guoren Lang and ex-telephone technician Xiulan Lan, paid $1.895 million last month for a duplex at City Spire on West 56th Street, according to city records.
"I'm right next to Carnegie Hall!" the younger Mr. Lang e-mailed from China, through a publicist. New York is "my favorite city in the world, so I just love living here!" he said. "Everything of the best resides in this city—music, theater, culture, food!"
The 25-year-old's message was written just like he plays: Exclamatorily. "I think of the absurdist pundit Stephen Colbert, who promises not to read the news to his viewers but to feel the news at them," Alex Ross wrote about Mr. Lang in The New Yorker last year. The Times calls him classical music's hottest artist, but still sniffs at his gesticulating showmanship and "Dionysian" interpretations.
Yet it's hard to not share his giddiness about his pieces or about his apartment, especially considering that he spent years of his childhood in a tumbledown studio in Beijing, where his father took him to be near a conservancy. It was so frigid in the winters that Guoren would get into his son's bed beforehand to warm it, according to an upcoming autobiography. The man wasn't always so cozy: "You are late! You can't be trusted! You have ruined your life! You've ruined all our lives!" the father tells his son after an elementary school choir rehearsal runs late, which postpones solo lessons.
On the bright side, young Mr. Lang made his American debut in 2001 at Carnegie Hall, and now has a five-room, two-bedroom, 1,449-square-foot duplex just a few feet away, which means he won't have far to go when he plays Stravinsky and Brahms there next year with the Met Orchestra.
According to the deed, the parents' address is in Philadelphia, though they're "still with me most of the time (even in New York)," Mr. Lang wrote, "so we still have lots of Chinese cooking in the apartment so it still feels like home and my upbringing will always be with me."
mabelson@observer.com