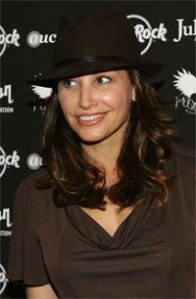 This morning Gina Gershon went on Live with Regis and Kelly—except that today it was "Live with Mario Lopez and Kelly"—to promote her Broadway play, Boeing Boeing.
Predictably, she used the opportunity to once again share some thoughts about Vanity Fair's recent article that made allegations about the actress and Bill Clinton.
Ms. Gershon told the hosts,
"It is such a crazy, outrageous lie that has nothing to do with me… Journalists, it's so scary, because they get these rumors, hearsay, put it in the story, and it goes around the world in a minute… Vanity Fair never even did fact checking…. These irresponsible journalists—they're not accountable for anything."
Since the article's publication, Ms. Gershon and her lawyers sought a retraction from Vanity Fair. The magazine has refused.
The Huffington Post has the video.