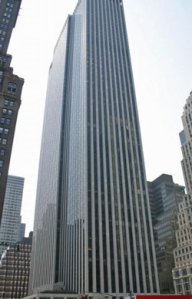 The GM Building, the tower that Mort Zuckerman's Boston Properties this week closed on for a record-breaking $2.8 billion, may no longer be known as the GM Building.
Just minutes ago, in a Boston Properties investors conference call to discuss the acquisition, president Douglas Linde said the GM Building's name may officially change, since General Motors — which moved its headquarters there 40 years ago –is moving its remaining three floors, more than 100,000 square feet, from the marble tower to the Citigroup Center, another Boston Properties tower, also in Midtown.
"GM may no longer be the moniker of the building," Mr. Linde said, depending on what Boston Properties determines is the value of the existing name.
General Motors' lease at the Citigroup Center begins in 2009.
In February, The New York Times reported that the building's former owner, Macklowe Properties, was considering selling the naming rights of the building for as much as tens of millions of dollars.