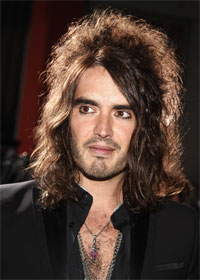 Russell Brand, the British comedian most recently seen playing a sexy rock star in the Judd Apatow-produced comedy Forgetting Sarah Marshall, has inked a $3 million dollar book deal with HarperCollins Worldwide, according to a source involved in the negotiations. That jaw-dropping sum got the house world English rights, which means they'll be able to publish the book—described to Media Mob as a collection of comedic "rants"—through any of their international units and sell whatever rights they don't want to other publishers.
Because Mr. Brand is a much bigger star in England than he is anywhere else, the UK unit is covering the lion's share of that massive advance, our source said. Stateside, the book will be published through HC's Collins division and overseen by editor Gillian Blake.
Mr. Brand, who is currently working on a second movie with Mr. Apatow and recently wrapped one with Adam Sandler, published a raucous memoir last year about his addiction to drugs and sex that was a huge bestseller in the UK. That book, entitled My Booky Wook, originally involved a ghostwriter, but Mr. Brand didn't like what he saw of a first draft and decided to write it himself—in Tuscany!—over the course of about a month.
Literary agent Richard Abate of the Endeavor Agency sold Collins U.S. rights to that book for $250,000, according to our source, and then came back to them, by way of HC UK CEO Victoria Barnsley, with the new one.