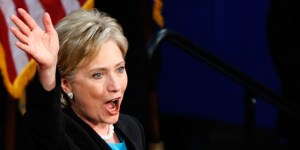 WASHINGTON, June 7—The cavernous National Building Museum wasn't quite packed to capacity—the couple of thousand Clinton supporters in attendance were bunched up near the stage and behind it, in camera shot, and along the second- and third-story terraces overlooking the floor.
But the turnout was nonetheless impressive. Many of the spectators had traveled a long way to be there, on a sweltering weekend day, to witness something they hoped they'd never see: the end of Hillary Clinton's presidential campaign.
"This isn't exactly the party I'd planned," Mrs. Clinton began, "but I sure like the company."
It was, by this time, down to the loyalists. Of the Democratic Congressional delegation from New York, which had backed her unanimously, only Representatives Eliot Engel and Anthony Weiner made the trip down. Terry McAuliffe and Lanny Davis were there, and Ted Danson and Mary Steenburgen. But most of the New York regulars—the heavyweight supporters and donors whose combined might had helped make Mrs. Clinton the presumptive front-runner when the race began—were nowhere to be seen.
Right up until the moment Mrs. Clinton took the stage, along with her husband, daughter and mother, to announce the suspension of her candidacy, it seemed as if her supporters in the audience still hadn't reconciled themselves to what was happening.
"Personally, I think she should have gone all the way to the convention," said Kathryn Pearson-West, a project manager from Northeast Washington, shortly before the speech.
"I would have told the Democratic Party and all them to go jump," she added, tactfully.
Mrs. Clinton drew loud, sustained and frequent applause during the first five minutes of her speech, which was largely devoted to talking about how well she had done in getting the number of votes and winning the number of primaries that she did.
"Eighteen million of you from all walks of life—women and men, young and old, Latino and Asian, African-American and Caucasian, rich, poor and middle class, gay and straight—you have stood strong with me, and I will continue to stand strong with you, every time, every place, and every way that I can," she said, to thunderous approval.
Then, the pivot.
"The way to continue our fight now—to accomplish the goals for which we stand—is to take our energy, our passion, our strength and do all we can to help elect Barack Obama the next President of the United States."
There was loud applause, but only from some of the audience. Chunks of the crowd didn't react at all. A few people booed audibly.
She continued: "Today, as I suspend my campaign, I congratulate him on the victory he has won and the extraordinary race he has run. I endorse him and throw my full support behind him. And I ask all of you to join me in working as hard for Barack Obama as you have for me.
"I have served in the Senate with him for four years. I have been in this campaign with him for 16 months. I have stood on the stage and gone toe-to-toe with him in 22 debates. I have had a front-row seat to his candidacy and I have seen his strength and determination, his grace and his grit."
Mrs. Clinton went on to praise Mr. Obama for living "the American dream," and at one point took up the Obama rallying cry: "I am standing with Senator Obama to say: Yes we can."
The crowd got loud again for the end of the speech, during which Mrs. Clinton talked about what her campaign had meant in terms of progress for women. "Although we weren't able to shatter that highest, hardest glass ceiling this time, thanks to you, it's got about 18 million cracks in it," she said. "And the light is shining through like never before, filling us all with the hope and the sure knowledge that the path will be a little easier next time."
The official reaction to the speech was uniformly, glowingly positive.
Mrs. Clinton's surrogates pronounced it a hit—"an A-plus," Mr. Engel said. Mr. Obama released a statement that said, "I honor her today for the valiant and historic campaign she has run. She shattered barriers on behalf of my daughters and women everywhere, who now know that there are no limits to their dreams."
Unofficial reaction was somewhat more complicated.
"It was a nice speech, but she was too nice to Obama," Mrs. Pearson-West said afterward.
Also: "If she's not on the ticket, I hope she just goes home and sits and does her own work. I wouldn't bust my butt for him."