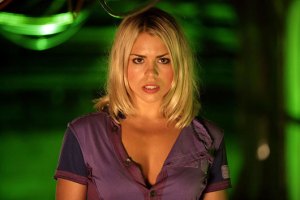 When news broke that Eliot Spitzer had been patronizing a high-class prostitute, one thing everyone seemed to want to know was what, exactly, he'd asked his call girl to do. It was "unsafe," in the words of "Kristen," a.k.a. Ashley Alexandra Dupre—but could that have been an excuse she fabricated in hopes of unloading an undesirable client? Speculation was all over the map, from unprotected sex to anal to dangerous S&M to wearing socks in bed (not unsafe, sure, but certainly annoying). For a few days there, as we marveled over the amount of money earned by the girls at Emperors Club VIP and wondered over their wealthy clients and envied Ms. Dupre's Flatiron apartment, hookers were on the brain. Are their lives better or worse than ours? At the top end, at least, their jobs actually sounded more like dating than whoring.
And here's the problem with Showtime's auspiciously timed new series, Secret Diary of a Call Girl. As it follows Belle, a high-class London hooker who professes to "love sex" and therefore love her job, the show sanitizes hooking so much that a young woman might wonder why she even bothers trying to have another career. For Belle, whose real name is Hannah, being a prostitute means having tons of free time; a fabulous flat; a salary over 100,000 pounds (!!!); and entree to the luscious clubs and bars of London reserved only for the fabulously wealthy. Sure, she is required to have sex with her clients, or at least come close to it (more on that shortly), but please: This is 2008. Sleeping together on the first date? Not so scandalous. Belle is a professional fake-dater more than she is a whore.
Much of the sex on Diary is similarly scrubbed clean, so much so that during one foursome (Belle and a male partner are hired to swap with a couple celebrating their 15th anniversary together), the paying couple winds up having sex only with each other. So much for the freaky promise of that episode! If you're looking for porn, you'd be better off on the Playboy Channel. Or possibly Cinemax. It is Showtime, and not even "after hours."
Secret Diary of a Call Girl, based on a book called The Intimate Adventures of a London Call Girl by a prostitute publishing under the name Belle de Jour, wasn't developed by this perennial Pepsi of cable networks. Rather, it was adopted from ITV2 in Britain, where it had a popular run. Its star, Billie Piper, will be recognizable only to those who watch the newishly revamped Doctor Who series on the Sci-Fi network, where Ms. Piper played Rose Tyler for the first two seasons of the show. She's been given a substantial makeover: Her brassy locks are now a rich honey color and as voluminous as Brigitte Bardot's, her unibrow has been split in two and colored appropriately. She is tiny and fit and looks good in lacy underwear. The Doctor would doubtless be pleased.
Each of the season's eight episodes includes two story lines: a prostitution scenario (exclusive adult party; date with a cute, young sexually frustrated man; rendezvous with a regular); and one involving Hannah, the true identity of "Belle," who is bent on obscuring her profession from friends and family. They believe she is some kind of legal secretary, so it's confusing that they aren't more concerned when she shows up the hospital for her niece's birth in a black, skintight minidress with a bracelet of feathers. Or when she shows off to her father an apartment with views of Westminster Abbey given to her by a client, offering the feeble excuse that she can live there as part of her secretarial job. Of course, there's only so much you can do in 22 minutes, but the attempt at giving Belle an inner and alternative life only makes her hooker self seem more shallow instead of less.
Still, it's difficult to make a show or a movie or write a book about prostitution that doesn't disappoint in one way or another. If the hooker says she loves her job, we don't believe her. If she says she hates it, we wonder why she won't get out. Diary, like Belle's persona, is a fantasy. And despite its subject matter, it's a fairly harmless one at that. If you're a woman, the craziest idea you'll get from this show is that it's thrilling to put on fancy lingerie and roll around on your bed alone, while running your hands through your hair. If you're a man, it's that you should save your money. Dating is more exciting.