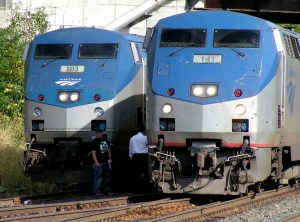 The U.S. House of Representatives today passed a bill that would authorize billions in federal spending on Amtrak, boosting opportunities for high-speed rail and other programs in the Northeast and around the country.
The bill, which would allow more than $14 billion in spending, could also provide some money for Moynihan Station as part of a $2.5 billion grant program, according to Representative Jerry Nadler's office, which has been active in pushing the bill. It also contains a provision that would have Amtrak take proposals to build a higher-speed rail link between Washington, D.C., and New York City, looking to reduce the trip to two hours; however, such a proposal would likely cost billions.
The Senate passed its version of an Amtrak reauthorization last year, which would authorize $10 billion in spending. Both the House bill and the bill in the Senate, pushed by Senator Frank Lautenberg, passed by veto-proof majorities.