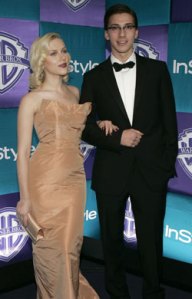 A couple of weeks ago, Hunter Johansson, then a community organizer employed by Manhattan Borough President Scott Stringer, stopped a co-worker, Greg Kirschenbaum, in the lobby of 1 Centre Street.
"Hey, so I think I'm leaving the office and going to work for the Obama campaign," Mr. Johansson, the twin brother of actress Scarlett Johansson, told Mr. Kirschenbaum.
"I remember, for a while he was asking all the community liaisons where would be the best place for him to go, and I actually recommended Colorado because I thought it would be a good place for him," said the latter man, who sometimes walked over with Mr. Johansson to Lenny's Sandwich Shop on John Street for lunch and described him as "a down-to-earth, hardworking and outgoing guy."
On June 6, Mr. Johansson finished his last day at the Manhattan Municipal Building and left to work as a fellow campaign organizer for the presumptive Democratic presidential nominee, Barack Obama, in Denver.
Three minutes younger than his sister, with whom he was raised in Greenwich Village, the fair-skinned Mr. Johanssen was recently anointed a "Hot Bachelor" by People. New Yorkers who have met him say he is polite, a Mets fan, a good-looking guy who wears jeans and a T-shirt off duty and often uses words like "Dude," "Dawg" and "Bro."
"There was obviously a little bit of buzz when he started here as an intern before he got hired, but I wanted him to know that I was kind of with it, you know?" Mr. Stringer told the Transom. "So I said to him, 'Listen, I just want you to know that you were hired based on real merit, and I don't care who you're related to.' And he said, 'Well, you probably know my grandmother.'"
Mr. Stringer was indeed acquainted with the Johansson siblings' maternal grandmother, Dorothy Sloan. She was an activist for the city's Mitchell-Lama program, which provides housing to low- and middle-income families and which Mr. Stringer has supported for 25 years.
The hitherto little-known Mr. Johansson's announcement came days after Scarlett said in an interview with Politico that she e-mails with Mr. Obama on a regular basis. Did she help her bro land the job?
Ms. Johansson's publicists declined to make either sibling available for an interview, but indicated that it was in fact Hunter who introduced Scarlett to Senator Obama years ago. (They were also eager to point out that Mr. Johansson, despite an appearance in his sister's 1996 indie Manny & Lo, never had significant acting aspirations.) The Obama campaign didn't return repeated calls.
The mysterious Mr. Johansson became an intern at Mr. Stringer's office right after graduating from the University of Vermont. Once promoted, he was assigned to community boards 2 and 4, which cover the West Village, Chelsea and Hell's Kitchen neighborhoods. He was charged with attending community board meetings and communicating with local leaders, and was particularly productive while working on issues like traffic and congestion in his designated areas, said the borough president.
"He will have a future in politics, I think," said Mr. Stringer. "He is very comfortable with himself and his ideology and why he wants to participate in the political process. … You never know, he could have the candidate bug, it could happen!"
ialeksander@observer.com