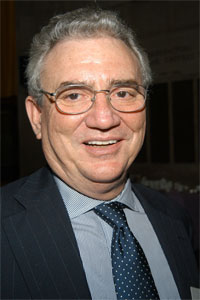 As you may know if you read half a dozen media news and gossip sites, Howell Raines profiled the Poynter Institute's Jim Romenesko in this month's Portfolio. Mr. Raines calls Mr. Romenesko's media news site, "a high-tech tom-tom for angst-ridden members of a dying tribe" and calls the man himself "both the medium and the message." (Mr. Romenesko linked to the story himself, pulling one of the least flattering statements, "From guru to geezer in cyberspace," as befits what all media writers are contractually-bound to refer to as his modest Midwestern demeanor.)
Since Portfolio is a general interest business magazine, Mr. Raines offers a one paragraph history of journalism, perfect for our blog-addled Google-dummed age:
In little more than a century, journalism has been conducted under a variety of short-lived labels. Yellow journalism begat objective journalism, which begat investigative journalism, which begat advocacy journalism. To some of us, the New Journalism looked like a destination, but that was before the passage through gossip journalism to our next stop: fact-free journalism.
The closest Mr. Raines got to Mr. Romenesko was an iChat window, "Since he inhabits a virtual world, it was a virtual interview." Eight years ago, New York's Simon Dumenco actually spent some time in Mr. Romenesko's presence, back when Mr. Romenesko was still hosting his media news site independently. Here's how Mr. Dumenco described Mr. Romenesko's operation circa the turn of the Century:
The world headquarters of MediaNews.org—the white-hot nerve center of the media world, the Website that industry types scan obsessively to see what media writers and gossip columnists everywhere know that they don't know—is a 500-square-foot one-room condo.
Cream-colored walls, light-beige carpeting. No bookshelves, a few stark black-and-white photographs on the walls (an albino, a cemetery, that sort of thing). A black leather chair and ottoman in front of a 36-inch RCA projection TV. An L-shaped desk with two computers, an iMac DV and a G3, connected to the Net via DSL and a 56K modem.
We understand he's since moved and upgraded to Wifi.