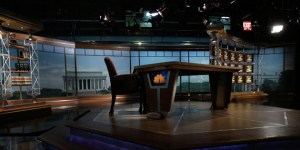 In the aftermath of Tim Russert's sudden death, the Los Angeles Times speculates on who NBC News executives will choose to replace Mr. Russert as the host of Meet the Press.

"Speculation on possible successors centers on three on-air personalities already under contract to NBC: David Gregory, the former White House correspondent recently given his own MSNBC show, "Race for the White House"; Chris Matthews, host of MSNBC's long-running "Hardball"; and Joe Scarborough, the former congressman and host of "Morning Joe" on MSNBC, according to talent representatives who declined to speak on the record for fear of jeopardizing relationships with network management," reports the L.A. Times.
 
More from the article:
It's considered less likely that NBC would reach outside for a brand-name talent, such as CBS News anchor Katie Couric or George Stephanopoulos, host of ABC's "This Week," the No. 2 Sunday show. Stephanopoulos is believed to have two more years on his ABC deal; a network spokeswoman would not comment.
Popular MSNBC host Keith Olbermann is likewise considered a long shot, largely because of his open espousal of liberal viewpoints.
Within NBC, a battle between Matthews and Gregory could be particularly intense, as each has spent months jockeying for favor among Russert and network executives.