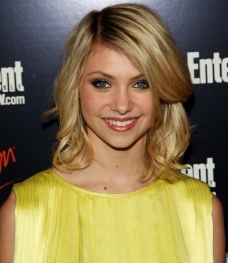 Earlier today, The Hollywood Reporter told us that Gossip Girl's Jenny Humphrey might get her own show. Taylor Momsen plays our least favorite character on GG (or maybe we just love to hate Brooklyn brat Jenny Humphrey) and apparently producers were planning on shopping a show based on her storyline, or introducing a new character in the fall for a later spin-off. But New York Magazine alerts us to a Josh Schwartz interview with E! in which he says it might not happen. "Not sure how this got out there, but no plans for a spinoff at this moment," Schwartz told E! Online this afternoon. "The books do have a spinoff, but we have nothing in the works right now other than making sure season two gets off to a great start." Sigh.
Here's more from The Hollywood Reporter, regardless:
The big question is whether such a project would be picked up by the CW. The network already has two teen dramas set in high school this fall — "Gossip" and "90210," a contemporary spinoff from the 1990s Fox series — as well as "One Tree Hill," in which the characters recently graduated from high school. Plus, though "Gossip" has a devoted following and significant cultural buzz, its ratings are pretty modest.
Alloy Entertainment owns both book series, co-produces the TV show and has a first-look deal with "Gossip" series co-producer Warner Bros. Television, whose parent, Warner Bros. Entertainment, co-owns the CW.
All of which means the CW has right of first refusal on any "Gossip" spinoff. If refused, Alloy could in theory shop the project to cable networks that target young women, including ABC Family and MTV.