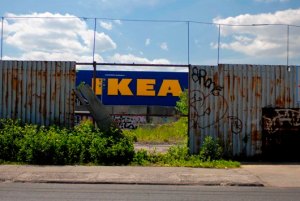 Ikea Red Hook has survived its first weekend in Brooklyn. To commemorate, we dedicated several hours to the Ikea experience, starting with their free (for now) water taxi, which departs every 10 minutes from Wall Street's Pier 11.
The water taxi itself was surprisingly empty and prompt, and filled with happy customers carrying houseplants. I met one woman (holding a houseplant) who was traveling from Wall Street to take her lunch hour in Ikea.
"It's a beautiful day and a beautiful ride," she said, "and I want to try the meatballs."
This kind of short visit is absolutely the reason for the water taxi, store manager Mike Baker told me inside. We stood in the wicker basket aisle.
"We've really tried to develop alternative means of transportation, and given our location, water transportation seemed like a great way to go," he said. "With the water taxi, I thought, wouldn't it be nice to run it free through the whole summer? So I've decided to run it seven days a week and then once we get in through Labor Day, we'll just run it on the weekends as needed."
Is there any concern for those who want a free ride without a visit to the store?
"There'll get to a point where we're at that conversation, but right now it's not been an issue," Mr. Baker said. "Maybe when it gets into the fall. I mean, we're running right now 149-seat water taxis, we're running them every 10 minutes, it's not been an issue. I mean, what the heck, it's water access," he said, laughing. "It's a marriage made in heaven."
As long as it's free. How have community relations been?
"Oh, the community has been extremely supportive," he said. "We had the Tenants Association in here for opening day. They're in here almost every day checking in on me.
"All you have to do is stand here and watch people walking down the road in the morning. You'll see everyone's badges and yellow shirts; it's an exciting thing to see for us and the community."
I asked if he was one of those people.
"I live over there," he said, pointing across the water somewhere, "and I have a hybrid. I run here sometimes, though. I like to get in three miles a day."
We went on to talk about the landscaping of Ikea's three-quarter-of-a-mile "esplanade," which has 10,000 plantings and includes different seating options, as well as renovated areas of Beard Street, where the landscape architect replaced some of the large building blocks with plantings.
"The environmental community hasn't had access to this area since the '50s, " Mr. Baker said. "We wanted to do something to give back."
So, you're not Wal-Mart?
He laughed and shook his head, "This is Ikea, everything under one roof."
Regardless of the esplanade, neighborhood business owners and residents are divided on the issue of the store's new location and its impact on Red Hook, though none of them seemed to take the stance that it was going to help their business.
Rocky Sullivan's at Van Dyke and Dwight has noticed a significant difference in the area since Ikea moved in. The restaurant-bar is one of Ikea's closest retail neighbors, a little over two blocks away.
"They're more people around all right," a waitress told me, sitting at the bar. "They're here from Manhattan, getting off the ferry and walking around, asking me for directions."
F&M Bagels on Van Brunt Street has not seen the same shift and doesn't anticipate one.
"I don't think it's going to help Bait [and Tackle] or it's going to help me," F&M Bagel owner Frank Morales told me. "I haven't noticed a difference. I think people going into Ikea are going to stay in Ikea."
I met some local commuters to the area who work in the Fairway Building at the end of Van Brunt Street, several blocks from the Beard Street Ikea.
"I thought it was a terrible thing," one local resident said. "But the park they put in is really tastefully done. It reminds me of Battery Park City. I walk my dogs in it," she said, before her coworker chimed in:
"There are two roads that come into Red Hook," he told me. "I commute here every day. It just seems like an odd location. I can get a new steak knife, or some glasses, but the burden of the traffic's just not worth it."
I asked him to what extent things had changed so far.
"There's not really been a big difference yet," he said. "But as soon as Manhattanites realize that they can drive over here, it's over."
"Let's just get a helipad," another employee suggested.
Nearby, Ikea's brand-new traffic cops stood in the sun directing confused cars across Beard.
"I won't be here forever," one officer from East New York told me, "but somebody will be. These cars aren't used to stopping," he said as one resident yelled at him, wondering why the intersection was so dangerous.
"We're working on it, ma'am, they're trying to get a light."
"No," the officer said. "It's good for Brooklyn, we're in a recession, people need these jobs. Change is good. Sometimes we don't like change," he said and stopped talking to think long enough for the light to turn green. He spoke over his shoulder, "We put the man on the moon, we can have an Ikea in Brooklyn."