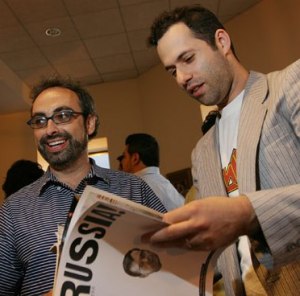 The first thing you noticed Wednesday night when you walked into Hugh Hefner's old Playboy suite on the 23rd floor of 730 5th Avenue were the dozens of fur coats hanging from hooks like racks of lamb and the blasting Russian rap music.
Between this and the elaborate pastries imported from the jungles of Brighton Beach and the severe blonde woman dressed like an alien (slicked-back hair, reptilian Armani sunglasses) smoking a cigarette right there, inside, even though there was a spacious balcony overlooking the park three feet away, you could tell right away that at this party you weren't going to be served any hamburgers or hot dogs. Mr. Hefner hadn't been in this room in years; furriers occupied the space now, and this was their showroom. On Wednesday it was full of Russians.
None of the young New Yorkers in attendance could figure out why the editors of Russia!, a niche quarterly about Russian culture and design, were celebrating the release of their fourth issue here. Who were these stout men wearing white linen suits and walking around with suspicious mustaches and designer ascots? Were they speculators? Oligarchs? Everyone decided they were probably oligarchs.
Michael Idov, the fidgety modern editor of Russia!, didn't seem to know. The Latvian immigrant, a contributing editor at New York Magazine and a novelist whose first book will be published by Farrar, Straus & Giroux at the end of next year, wore dark jeans and a grey striped blazer over a t-shirt by the boutique hip hop label Mishka. "Well it's my name in Russian obviously!" he said, with all the charm of a befuddled Professor Pnin. "It is a diminutive, like 'Mikey.'"
Mr. Idov explained this was even more funny because 't-shirt' in Russian is "Maika."
The Russian music was a particular thrill for Mr. Idov. It was taken from the soundtrack of Grand Theft Auto– it plays on the fictional radio station called Vladivostok while the videogame's Russian protagonist Nico steals cars– a game he has been playing a lot lately.
"I decided that if I finished my novel I would go completely low-brow for the summer," he said. "All I'm doing now is playing Grand Theft Auto and watching Law & Order all the time."
He explained also that the reason Russia! was having their party among lavish furs and jewels encased in glass in this regal space was because the designer who owned the showroom, Helen Yarmak, had an ad in the new issue.
And how is your inexplicable little magazine doing, Mr. Idov?
"It's not doing too badly!" he said. "It looks like it's an art project, but it actually has amazing newsstand sales. It's priced at $5, and magazines like this are usually like $9. There seems to be a lot of impulse buyers, like 'oh, this looks weird, maybe I'll buy it.'"
His distributor had managed to get Russia! into college bookstores, Mr. Idov said, and this he was very happy about. "That's where we want to be. College bookstores are ideal for us and I love that we're not next to like, ethnic magazines. We get shelved next to ID and Nylon."
He went on: "One thing I'm adamant about it is that it's actually not for Russians. I don't want to stroke Russians' egos, especially back in Moscow by telling them how cool they are. When Russians write about themselves they inevitably get histrionic—they really want you to like them and if they feel that you don't they go, like, 'fuck you! We don't need you anyway and we're separate from everything!' I was really hunting down that tone in the magazine and killing it until it was all gone."
He said that the point of his magazine was not to pay tribute to his mother country's dusty past, but to celebrate the things that are happening there today.
"Nostalgia is one of the most ruinous forces in the world," he said. "Every 'die yuppie scum' demonstration on the Bowery that decries the coming of wine bars and boutiques is driven by the most bourgeois of all feelings, the nostalgia for the quaint."
"I hate the immigrant's nostalgia," he said, launching into a spirited imitation of it. "'Oh, the old country, where everything was so real and pungent and authentic, and in America everything's just kind of like eh, and plastic, and people smile but they don't mean it!' People write novels about this every five minutes."
What seemed like the oddest of guests at first was Gristedes supermarket chain owner John Catsimatidis, a big political donor with mayoral ambitions who became acquainted with Mr. Idov when the latter wrote about him for New York.
It later turned out that Mr. Catsimatidis' wife was actually of Russian descent and liked the magazine. "She feels empathy for her Russian past," he explained, despite the fact that she was born in Indianapolis, Indiana.
One of Mr. Idov's friends at the party was Darya Zhuk of the LA-based production company Das Film, who shuttles between New York and Moscow. "I'm actually going to Belarus soon to do like a 30,000 people rave in Belarus, I'm deejaying," she said.
"I like Michael's parties because it's where you find the okay Russians, the Russian bohemian crew—writers, artists, film makers, photographers living in New York, who don't live in Brighton Beach," she said. Then looking around at the older Russian gentlemen commingling with New York's young media slaves, she added, "their last party was at Pravda and more relaxed, but this seems a bit more buttoned up."
Yuri Ezlikov, a Moscow-born New Yorker who writes about fashion for Russian magazines, said that new money in his country is making people unstylish.
"It's a question of value," he said. "American fashion finds value sort of on the higher end -in quality versus Russian fashion which finds value in quantity and immediate gratification. Think 80s New York. Logos, over the top. It's slowly changing as… they are acquiring better taste. But it takes time. Taste is an acquired thing. Especially when you have grown up with nothing —which a lot of these people, from the 90s, they came from nothing."
A soft-spoken but focused ballet producer dressed in an appalling white shirt did not want to share his thoughts about how Russians have changed.
"Russia today more brand than anything else," he said, "because of success of the country around the world in business, entertainment, sports, everything. It is 90% Vodka and caviar. But I'm sure more intelligent people, more familiar with Russian art, Russian music." He went on: "I feel very comfortable being here, doing business here. We're never surprised when we hear that the American businessman is doing business in Russia. We don't have to be surprised that Russians are doing business in the United States."
The Observer wondered where the money backing Russia! has been coming from.
Like many at the party, a Russian gentleman named Vitaly Kuznetsov, who distributes the magazine to Russian stores in Las Vegas and is himself the director of international marketing for Casino Style magazine, had some suspicions on this point.
"I think maybe Putin," he said. "He opened special agency that advertises Russia as country with budget of 300 million dollars. I think maybe it is from this. I don't know. This is top secret!"
Not really, it turns out!
"We only have two investors: one is the publisher, Ilya Merenzon, the other is an American Businessman, Andrew Paulson, from Minnesota who is actually based in Moscow now," said Mr. Idov. "He used to own a Russian publishing house and now he owns LiveJournal, which is kind of hilarious."
What did Mr. Idov make of the widespr
ead speculation that his magazine was funded with government dollars?
"Literally at some point I was so tired of this I actually threw a fit," he replied, visibly exasperated. "I was like, 'do I need to print a picture of like, Putin with a dick in his mouth so that people shut up about us being a propaganda machine? What else can I put in there?"
"Obviously before taking this job I asked, like, 40 times, you know, 'are you sure this is not the Kremlin?'"
Nearby, a fat lady tried on fur coats. An editor from Farrar, Straus & Giroux walked inside from the balcony, looked around, and blinked. "Please explain what this is," he said.