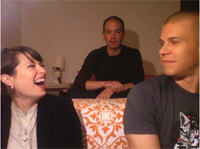 Music critic. Blogger. Photographer. Composer… Advice columnist?
That's the newest gig The New Yorker's Sasha Frere-Jones can add to his C.V. after appearing in Jezebel's popular "Pot Psychologist" video advice feature this week.
Mr. Frere-Jones appears alongside the usual Pot Psychologists, Tracie "Slut Machine" Egan and Four Four's Richard Juzwiak, answering questions about sex, dating, ailments, and the difference between ambivalence and ambiguity. (Don't even ask about ambidextrousness.)
It's unclear if Mr. Frere-Jones properly prepared himself for the role of Pot Psychologist (he's seen enjoying a large glass of red wine at one point and admiring Ms. Egan's Ikea bedspread), but as always, the video comes with a warning to kids to stay away from drugs.